Student-Athletes of the Week: Maija Tanberg and Jacob Teunas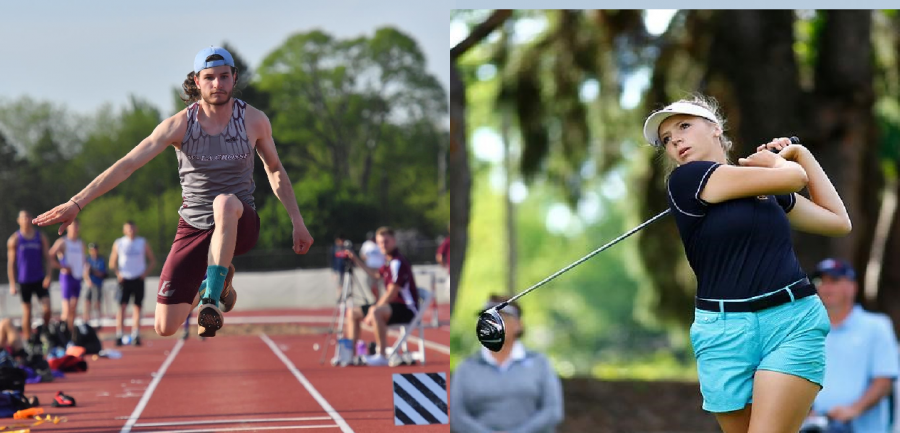 Trevor Kliebenstein, Sports Reporter
April 19, 2019
On April 16, University of Wisconsin-La Crosse Eagles freshman golfer Maija Tanberg and track and field junior standout Jacob Teunas were announced as the student-athletes of the week.
Maija Tanberg
At the Wartburg College (Iowa) Spring Invitational April 13-14, Tanberg finished tied for ninth. She recorded a score of 186 over the two days on the par 72 course. She finished atop all UWL golfers.
The invitational was Tanberg's first tournament as a golfer for UWL. This past fall, she played for the University of Arkansas-Monticello. She said, "Being far away from home was a struggle for me so I decided it would be best if I went to school closer to home. UW-La Crosse seemed like a good fit for my academics and golf team."
Tanberg had an incredible time competing for UWL at the Invitational. She said, "It was a great experience and first tournament with my new teammates. It was really fun competing with the top players at the tournament and it was fun all around."
Tanberg has been UWL's top finisher throughout the Eagles first two matchups at the Wartburg College Spring Invitation and Dual Matchup against Viterbo University at Valley High Golf Course in La Crosse. Being a freshman, she's staying humble and just trying to have fun on the golf course. She said, "I feel grateful that I am able to challenge the other girls with my scores. I love golf, and to me it's not always about what you shoot."
The UWL women's golf coaching staff is what has stood out to Tanberg ever since she stepped onto campus. "Having coaches that push me and encourage me to do my best help me be the golfer I am today," said the Forest Lake, Minnesota native. Tanberg also credits her work ethic and time management to her consistent success early in her UWL golfing career.
Going into the end of the spring season, Tanberg is focused on having fun with her teammates and embracing the time with the lone senior on the team, Sarah Faanes. She said, "This semester my goal is to be more consistent with my score and to enjoy being on the course…I hope everyone has fun this last semester, especially our senior, Sarah."
Tanberg is majoring in Earth Science but later on plans on majoring in Meteorology as well. Since she's a student-athlete at UWL, she definitely knows how important it is to balance time between her academic and athletic life. She went so far as to say that academics are her main priority over athletics. "I use my time wisely. Whenever I have free time I use it to study or do homework," said the freshman.
Outside of golf, Tanberg enjoys spending time outdoors and playing Mario Kart with her friends. "She's actually not that good at Mario Kart and I beat her every time," joked Kelsey Horn, one of Tanberg's best friends. Tanberg's favorite part about La Crosse are the bluffs, and her favorite restaurant is Shady Kate's.
Tanberg and the UWL women's golf team will conclude their spring regular season action April 27 and 28 in Lake City, Minnesota at the Saint Mary's University (Minn.) Spring Invitational.
Jacob Teunas
At the University of Wisconsin-Platteville Invitation April 13, Teunas finished second in both the long jump and triple jump. With a score of 47-10 in the triple jump, he now ranks second on the Wisconsin Intercollegiate Athletic Conference (WIAC) Honor Roll and sixth on the NCAA Division III Honor Roll. He also is now third on the WIAC Honor roll with a mark of 23-4 in the long jump.
Regarding his scores for both events on April 13, he said, "I believe both marks are a step in the right direction in regards to qualifying for Conference and Nationals." He's satisfied since the invitational was similar to that of the WIAC Conference meet since all the WIAC schools competed in the meet. He said, "With that being said, the goal every time I step onto the runway is to win, so finishing second in both events is just motivation to push myself to do better at conference in a few weeks."
Regarding the triple jump, Teunas has goals of placing first at the conference meet, placing top three at Nationals, all while jumping over 15 meters. His other individual goals are to win the long jump at conference and to become an All-American in long-jump. He'd love to win conference and eventually Nationals as a team at the National Championship meet which will be held in Geneva, Ohio May 23-25.
At the Indoor Track and Field National Championships in Boston, Massachusetts earlier this spring, Teunas almost had a massive amount of disappointment after performing poorly for his standards in the long jump. He received ninth place and failed to receive an All-American honor. He was also in 9th place going into the finals for the triple jump. However, he bounced back by finishing fourth, earning All-America honors. "Almost taking 9th in both events and falling short of that All-American spot is just motivation to do better next time," said Teunas.
"I can attribute my consistent success as a UWL track athlete to my coaches, my athletic trainers, and my competitiveness," said the junior. He also added that UWL has the best coaching staff in the nation led by head coach Josh Buchholtz.
Teunas is an Exercise and Sports Science major with an emphasis in the pre-professional track. He intends on becoming a Physical Therapist in the future.
Outside of track and field, Teunas can be found spending time outdoors whether it's fishing, boating, hiking, frisbee-golfing, playing tennis or playing beach volleyball. He loves La Crosse because of the perfect location with the Mississippi River to the west and the bluffs surrounding the city. "My favorite restaurants are Piggy's and the Crow," he said.
Teunas and the UWL men's track and field team compete next April 25-April 27 at the Drake University Relays in Des Moines, Iowa.
---
Show Global Grounds cashier this article for a FREE bagel with the purchase of a regular-priced drink! Limit one coupon per customer.