UWL Raises Pride Flag for First Time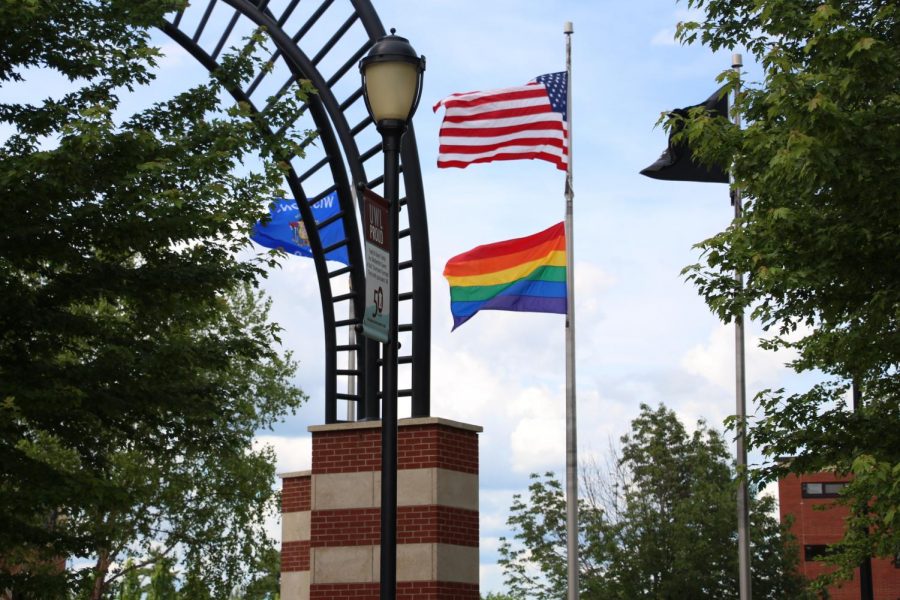 Karley Betzler and Sam Stroozas, Executive Editor and Managing Editor
June 18, 2019
On Tuesday, June 18 at 10 a.m. the University of Wisconsin-La Crosse raised the rainbow flag which signifies the LGBTQ+ community for the first time in UWL history at the Veterans Memorial Monument. The flag will be raised through the rest of the month of June in honor of Pride Month and support for LGBTQ+ individuals.
On Friday, June 7 Gov. Tony Evers raised the rainbow flag at the Wisconsin State Capitol to celebrate Pride Month as well. According to Director of UWL's LGBTQ+ Services & Programs Will Van Roosenbeek, this action allowed UW system schools the option to raise the flag.
Van Roosenbeek recalled a group of about 75 members of the UWL community were in attendance as the flag was raised. Van Roosenbeek and UWL Pride Center Graduate Assistant Garrett Denning raised the flag together.
Van Roosenbeek said, "It was a beautiful opportunity to acknowledge and celebrate both the Pride Center, but also LGBT folx on campus and in the community."
Denning also elaborated on why raising the flag was important to him. "Just to be able to raise that flag with Will meant a lot to me. It solidified what the moment actually was," said Denning. UWL's Pride Center will be celebrating its 25th anniversary of being on campus this upcoming fall semester.
Van Roosenbeek said, "I think [raising the rainbow flag] shows that we're not afraid. Showing up and supporting underrepresented communities is even more important now." Van Roosenbeek went on to say,  "I think students today have seen so much progress and in the last couple years, they've seen that being overturned. There's fear of that more of that might happen. Kinda has some students maybe thinking about being back in the closet."
Van Roosenbeek emphasized that raising the flag is a step forward and not where this progress ends. "Putting up the flag is a great thing and symbolic for not only the students, but the staff and faculty who are LGBTQ as well, but it's a movement in the right direction."
For UWL students, the flag on campus was a significant symbolic act. Junior DeVonte Kuykendall said, "Having the pride flag being raised at my campus tells me that we're making progress. It's liberating to be represented. It truly is. But I understand it's only the start."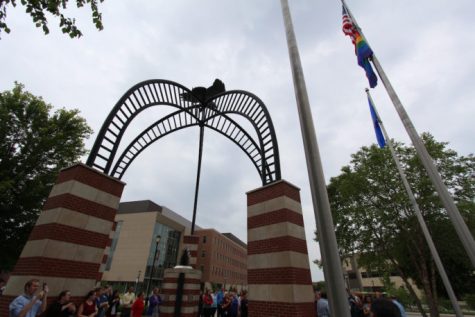 "We have to continue to look at what are the needs of the faculty, staff, and students who are LGBTQ and ask how are we doing well and how are we not supporting them still. Whether that is the experience of microaggressions that happen or sometimes the hateful, hurtful things that happen in classrooms or the residence hall." Van Roosenbeek said that not all buildings on campus have gender-inclusive bathrooms and this was an issue that students had been advocating for years to receive.
Kuykendall said, "The bittersweet feeling it brings of being represented, but also knowing the members of my community still face discrimination is very real. The flag doesn't just mean, 'Hey, we support being gay, or that you are gay,' it's so much more than that."
Kuykendall added, "It's about all the people who have been bullied, harassed, tormented, and dehumanized for their gender expression and their sexuality. For being human and having their rights challenged, questioned, restricted and unjustly denied."
Van Roosenbeek said, "Just wearing that pin or putting a sticker up in your office or on your car," is not the only step to take if someone wants to be an ally. "This means showing up and stepping up. You have to keep working to help us end the oppression that is still here."
"It is easy to get caught up in all of the things we are fighting against and we still have many loses, but this was one gain. We had 24 hours, if that, of notice, and to see all of the people who came out and wanted to be a part of this, it meant something," said Denning.
Although this was a progressive step for UWL, Denning claims there is still more to be done and we must thank the people who are doing the work it takes to make the needed changes. "There is so much work to do on campus, but also so much to be proud of, and so many people to be proud of who are doing the work. We are so lucky to have these amazing people around us and I feel lucky to be around them on a semi-regular basis."
Kuykendall said, "We talk about having equality for all people because we all feel we deserve it. This is the step in the right direction for that to be possible."
Van Roosenbeek shared a hope he has for the UWL community: "I hope that the campus community will feel the support that they have from the institution and, in particular, I hope that they see that the Pride Center is here for them and if there's anything that people need, we'd love to know about it so we can work to help meet that need."