Explained: 9/11 first responder funding and the impact of comedian John Stewart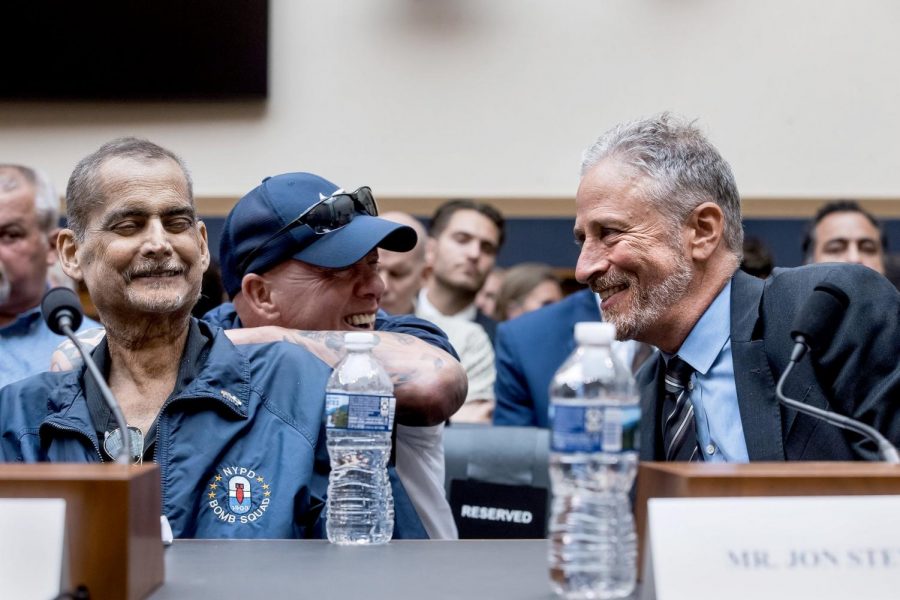 Luis Acosta Jr., Student Government Reporter
August 8, 2019
For first responders, rushing into inflamed buildings, maneuvering dark waters, resuscitating the helpless and other brave actions are all reflexive from those who choose to honor the call that so few wish never to respond to. However, to respond so effortlessly comes with a price: time away from loved ones, grueling hours of labor, constant collaboration around tragedy, and daily meetings with impending death or illness, and it has been asked if they should be allowed a financial recompense. Comedian and activist John Stewart shared his feelings for the rightful compensation of 9/11 first responders struggling with cancers and illness, to an almost empty committee hearing on June 11. 
A special fund for first responders has been in discussion for quite some time. The Victim Compensation Fund (VCF) was first enacted in 2001 following the 9/11 attacks, which processed claims relating to injuries/illness for first responders up-until 2004, as planned. Over 7,408 claims were made between 2001-2003; 5,560 of those claims were awarded, reaching a total of $7 billion. The grand majority of eligible victims had the fund compensate their families after their deaths, which covered over 98% of all claims with tax-free awards ranging from $500 to $8.6 billion.
Years later in 2011, the fund reopened for emergency workers who experience pro-longed health problems related to cancers or respiratory ailments from 9/11. The Obama administration authorized the Zardoga act, named in honor of NYPD officer James Zardoga who died of a 9/11 related repertory illness, which set aside $2.775 billion to compensate claimants for lost wages and other damages related to illnesses.
The VCF received 50,170 eligible claims, approving 23,641, with 16,715 still in the early processing period. With the additional $4.5 billion passed by congress for funding in 2015, there was no answer if this would be enough. On Feb. 15, 2019 the Special Master of the VCF Rupa Bhattacharyya released the funds seventh annual status report. It revealed the insufficient pool for payouts made before the 2020 expiration date for the act, leaving current and future claims at $11.6 billion, due to a rise in serious illness and deaths from the remaining 9/11 first responders.   
Stewart's frustration with the inadequate VCF funding while surrounded by first responders ready to answer the call for amelioration was made obvious, as he pointed out how fitting the empty committee chairs are for the overall attention these heroes receive.  
"I can't help but think what an incredible metaphor this room is for the entire process that getting healthcare and benefits for 9/11 first responders has come to. Behind me, a filled room of 9/11 first responders, and in front of me, a nearly empty congress," said Stewart.  
Stewart has made headlines supporting emergency personnel before. He stood by "hero fire-fighter" Ray Pfeifer when he was awarded the key to the city of New York by Mayor de Blasio. Pfeifer spent 8-months digging through the rubble of the World Trade Center where he says he was just "looking for friends." 
Stewart's fervor for 9/11 has been purposeful. During his first "Daily-Show" after the 9/11 attacks, he expressed how different and weird it would be now for him to look out of his apartment window and be able to see the Statue of Liberty where the World Trade Center once stood in her way.
"Now it's gone, and they attacked us. This symbol of American ingenuity and strength and labor and imagination and commerce – and it's gone," said Stewart.
Stewart has since exercised his opinions for congress to discuss what these emergency workers mean to him and the many indebted to their services. In 2015, after having had retired from the show, Stewart returned to his position behind the "Daily Show" desk to ask for Congressional action for the continuation of funds for the VCF, which was up for reauthorization. When the VCF was once again on the decline in funds for 2020, Stewart made a push to appear on as many major news networks with as many emergency personnel as they would allow him to for interviews.
This bill came slightly too late for one emergency worker. Former NYPD bomb squad detective Luis Alvarez struggled with complications from cancer he's lived with since his time digging through a rubbled ground zero. At the time, this ruble was deemed safe enough from toxic airborne inhalants to work around at the time by government officials.  Alvarez was an advocate for his fellow first responders during the proceedings for the compensation bill. Alvarez died on June 29, 2019 under hospice care. During his testimony for the house judiciary committee, he called into question what their remembrances of 9/11 means.  
"You all said you would never forget. It is my goal and it is my legacy to see that you do the right thing." Alvarez received a standing ovation from the courtroom after defending the funding that could have aided his fight against his own cancer, stating in a Facebook post following the hearing "I'm now in hospice because there is nothing else the doctors can do to fight cancer. Still here, still breathing, still fighting."  
Alvarez, who immigrated to the United States from Cuba as a child, was a New Yorker and earned educational awards from two New York metropolitan institutions and a detective position with the NYPD, which he served under for 20 years.   
NYPD Commissioner James O'Neil tweeted his condolences for Alvarez and how vital he was for the "Never Forget" movement: 
"Our NYPD family and all first responders mourn as we remember retired NYPD Bomb Squad Det. Luis Alvarez, who passed this morning. His strength – physical, mental and emotional – led us all, and we vow to #NeverForget him or his legacy – which was, simply, to have others do what's right." 
A day after Stewart's hearing on June 11, the House of Representatives passed the bill 402-12. The "Never Forget the Hero's Act: James Zardoga, Ray Pfifer, Luis Alvarez Permanent authorization of the September 11th Victim Compensation Fund" guarantees the filing of claims for 9/11 first responders until October 2090. 
Stewart's hearings inundated social media, causing mounting pressure for bureaucratic-driven members of congress to act their patriotic part. As the bill and pressure traveled over to Senate republicans it was met with some scrutiny by Sen. Rand Paul and Sen. Mike Lee over issues with the set budget amount, but the bill was placed into law after a 97-2 approval by the U.S Senate. 
The bill will be placed into effect after December 2020, authorizing $10.2 billion for the insurance of chronic illnesses and injuries of 9/11 NYC emergency personnel. Alvarez, Pfifer, and Zaroga are fitting examples of the NYPD moto "Fedelis Ad Mortem" or "Faithful unto death" and will forever be honored for their work.
Many current college students do not have much memory of the events of 9/11, but their impact has remained well into our adulthood. If you would like to volunteer to make a difference in your community, Service Year has compiled a list of emergency and community-based groups that are always in need of people. The Ready.Gov program is also searching for volunteers as well. Any donation to FEMA is always placed into legitimate action for those in.