Mujeres Orgullosas: the existence of proud, Latinx womxn of La Crosse
'Mujeres Orgullosas' is an empowering expression to Latinx womxn* everywhere, since the phrase itself means 'Proud Women' in Spanish. The expression is now known to be the name of a group of femmes presenting Latinx womxn in college within the La Crosse community.

The group was founded by the University of Wisconsin-La Crosse students Jamie Capetillo and Stephanie Citali Bohlman during the 2014-15 school year. It was created so that young Latinx womxn in La Crosse could express themselves. 
Capetillo is currently a hall director at UWL's Laux Hall and was an undergraduate student in her third year at UWL when she and Bohlman, a graduate student at the time, wanted to create a place where femme identifying, Latinx womxn could gather together.  
The idea to start Mujeres Orgullosas (MO) came from a womxn of color sketch that both Capetillo and Bohlman were developing in Awareness Through Performance—an annual performance made up of skits that centers around social justice at UWL.  
"Stephanie and I started generating ideas [during this time]; the skit was called a 'Letter to the Future' and we had different womxn of color write to their future children about what it was like to be in college, and what it was like to grow up as a womxn of color," said Capetillo. 
Capetillo graduated from UWL in the spring of 2017, majoring in women's studies and minoring in ethnic and racial studies. She identifies as a Latina and Chicana (Mexican American woman). 
Despite the existing multicultural student organization Latin American Student Organization (LASO), both Bohlman and Capetillo believed that being both Latinx and a womxn was often overlooked and resulted in students leaving UWL.
"My sister, Justine, came to campus when I was a junior, and she had a great group of Latina friends at UWL. They were from Milwaukee and would go home often. Eventually, we saw all of my sister's friends leaving and we thought, 'this has got to stop,'" said Capetillo. 
The official creation of MO offered a solution to the low retention rate of Latinx womxn at UWL with its strategic meeting day and time. "When we created the group and we had our meetings, we made sure to come together on Friday afternoons. That way students were more inclined to stay on campus and in the area on the weekends," said Capetillo. 
Meeting every other week, MO is "a space for Latinas, to retain Latinas, and cultivate our culture—so we would bring and make our [Latin American] food and make it a place where language isn't monitored—a place where you can speak Spanish, English, or Spanglish," said Capetillo. 
MO hosted a poetry event during Hispanic Heritage Month (Sept. 15-Oct. 15) to spread awareness of Latinx womxn. "We encouraged members of MO to bring a poem by a Latinx womxn. I remember a member who came to the event and she read a poem about what it was like being a brown–skinned, hairy girl. In reading the poem, there was empowerment and validation in that," said Capetillo. 
"Something that we always do is celebrate our Latinx womxn that are graduating because it is an uphill battle being a Latinx womxn and being on campus," said Isabel Ortiz, a member of MO, a co-chair of the womxn of color organization Asian Latinx African Native American Womxn.
Professors have also partnered with the organization. Dr. Omar Granados in the Spanish Department brought a Latina professor to campus during Hispanic Heritage Month and spoke to MO to continue to build on higher education. Dr. Adriana Perez Candia also partnered with the group, contributing in helping MO during Hispanic Heritage Month.  
MO also aimed to create a mentorship program for the femme, Latinx high schoolers in the rural area of La Crosse. "We wanted to let them know that you can go to college: community college, a four-year university, public, private—we wanted to equip these young womxn with tools that we needed in high school to succeed before entering higher education," said Capetillo.  
MO had the opportunity to work with faculty—such as Dr. Adele Lozano in the Student Affairs Association program, Dr. Victor Macias Gonzalez in the history department and Dr. Omar Granados—and received a grant with the help of faculty to implement mentoring programs in the Arcadia area and the Norwalk-Ontario-Wilton School District.
The group helped femme, Latinx high school students with personal statements, FAFSA and understanding what it was like to be a college student.  
"We try to encourage Latinx womxn to join through word of mouth, through the Office of Multicultural Student Services and LASO to let them know about MO. We do plan on meeting this year, just not as often as we used to. Probably once a month," said Ortiz. 
Regarding what she would tell young, Latinx womxn at UWL, Capetillo said, "Remember who you and whose you are. It was easy to lose parts of myself here at a predominately white institution that doesn't talk about your culture, protect your culture, or only does so in certain offices."  
"Don't lose yourself. I think with some Latinx people at UWL, there's a lot of healing from the places that they're coming from. Embrace your identity as a Latinx individual," said Ortiz, "I think my mom is a proud womxn and makes me the proud womxn I am today, as well as the womxn who came before me. Representation really matters, especially at UWL."  
If you or someone you know is interested in Mujeres Orgullosas, please click the following Facebook link titled Mujeres Orgullosas to join the group. Also, email the group at [email protected].
*An inclusive, non-binary spelling of Latina and women

About the Contributors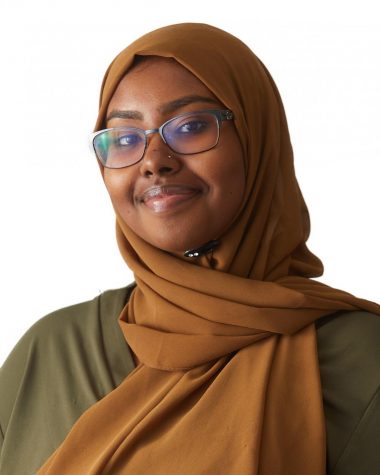 Marian Haile, Social Justice Reporter

Year at UWL: 5th Year
PGPs: She/Her/Hers
Hometown: Rochester, Minnesota
Major: English with an emphasis in Literature
Minor: Mathematics
...