Q&A with new student body Vice President Dana Nielsen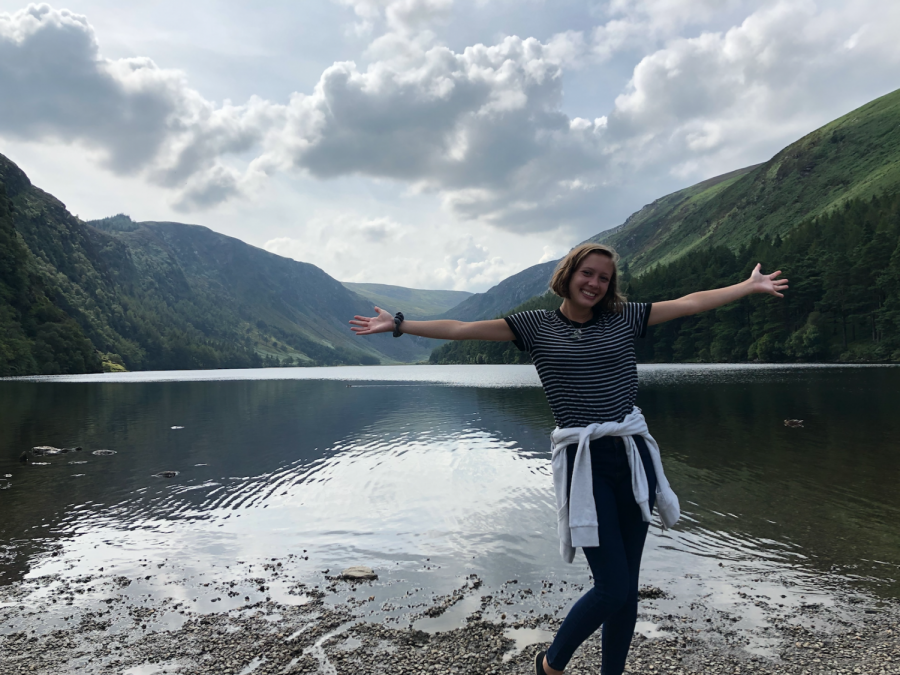 Luis Acosta Jr., Student Government Reporter
October 5, 2019
Dana Nielsen, student body Vice President, wants students at the University of Wisconsin-La Crosse to get involved. Nielsen, from Oakdale, Minn., studies Public Administration and Women & Gender Studies at UWL. Nielsen was inaugurated by the student senate on Sept. 4, after Olivia Woodmansee stepped down from the role in order to accept a position on the UW System Board of Regents. Nielsen has an old sister who once attended UWL and feels her contribution to the student body is not only vocational, but a privilege. Considering her new role and the worthwhile experiences she's had during her time at UWL, she feels as if she's exactly where she's supposed to be. Below is a question and answer session conducted with Nielsen so that UWL students can get to know their new student body Vice President. 
Q: What would you like to accomplish as the new Vice President?  
A: First, I would like students to be more aware of what Student Association is and what student senate is up to. So, for those who might read this and don't know what either of those entities are, Student Association consists of all students enrolled at UWL and student senate is the legislative body within Student Association that acts as the representative voice for all students. I would really love to see students get more involved with the Student Association. I think it would be great to have students attend our meetings more often. Second, I would like to see the Student Association collaborate with other organizations on campus on events and projects to accomplish common goals. Third, I am hoping to build on solidifying a relationship between UWL and the La Crosse community. I think that by teaming up with our neighbors we could enact change not only on campus, but around the city as well. 
Q: What are some of your core values? 
A: Being kind and respectful to others is my number one. People don't always have to agree with each other, but it's important to keep in mind that we each have our own experiences that influence particular beliefs. Basically, treat others the way you would like to be treated. You never know what someone else is going through or what kind of day they are having. It helps me to understand how an issue may have a different or more severe impact depending on the student. 
Q: What do you bring to the position that you think UWL students should know?  
A: I consider myself to be personable and helpful. I want my senators and UWL students to feel comfortable coming to me with any questions, concerns, or ideas they may have. I might not always have the answers off the top of my head, but I will always try my best. People should feel free to stop by the Exec Office (2244 Union) for a conversation. I'm a great listener and I would like to get to know more students on campus and hear about the experiences they're having. Finally, I am an empathetic person which helps me look at issues from multiple sides. It is part of my job to ensure that each senator gets the chance to voice their constituents' opinions and while also helping me see how students are impacted by an issue.  
Q: What influences do you bring to the senate? Who or what inspires you?  
A: I would say I bring a positive atmosphere to Senate. I'm a glass half full kind of person so I try to look on the bright side. My older sister is someone who inspires me. She is the most thoughtful and kind person I know, and her influence helps me in the way I approach people.  
Q: Are you part of any other organizations here at UWL? 
A: I am a member of Habitat for Humanity, College Feminists, Political Science and Public Administration Association. 
Q: Were you surprised by anything after you took up the VP position?   
A: The sheer number of emails I receive on a daily basis; but in all seriousness, the level of influence the Student Senate and I have really hit me. It's great to be a part of a University that values student opinion when making decisions.  
Q: What are some problems the student association has solved that you are proudest of? 
A: We are pretty early in the year, but I think we have some exciting things to look forward to. Some include: promoting the green fund, creating new events, tackling issues at the state level, working with the community, etc. Last year, I was really proud of the number of senators that part took in the Take Back the Night march. It's special to see a group come together in support for a cause. Last year, our Sustainability Director Sam Wolfe and former VP Haley, wrote a resolution regarding a referendum that would ban plastic straws on campus. This was approved last year, with 86 percent of the student body in favor of the ban. This was a huge step in making our campus more sustainable.  
Q: How do you solve problems best, in a group setting or individually?  
A: I think it depends on the problem. Sometimes I think it is good for me to fix something on my own and grow in maturity and responsibility. In other instances, I need some extra help because there's only so many solutions I can come up with on my own. Especially when it is a fairly big problem that impacts others; it's better to have some additional input. There's no shame in asking for help if you need it.  
Q: What advice would you give to anyone who is interested in student government?  
A: Go for it! Getting involved in student government can be scary and I understand that. I was nervous to get involved myself, almost enough to hinder me from running for a position at the end of my sophomore year. Someone actually printed the election petition sheet out and wrote my name on it. Surround yourself with people that believe in you. Without that person's support, I probably wouldn't be VP today. 
Q: What do you like to do in your free time?  
A: I like getting to spend time with my friends when I get the chance. We usually end up watching John Mulaney specials for the hundredth time. I also love visiting my parents back home and my sister in Madison. I really enjoy cooking and baking and I'd say I have some meals I can make pretty well. 
When asked what she'll be doing after she graduates this spring, her response was a familiar one for many college fourth-years: "Honestly, I don't know." However, she hopes to attending graduate school in hopes of completing a Master's degree in Public Administration. "After that I think I would like to be involved in local government," said Nielsen. 
Her take away from her experience as a member of the senate is how impactful her role is, saying "there is knowing a difference being made and then there is seeing it happen."
The student senate meets every Wednesday at 6 p.m. in 2310 Student Union; all students, faculty, and staff are welcome.