Album Encounters offers weekly multimedia light show at UWL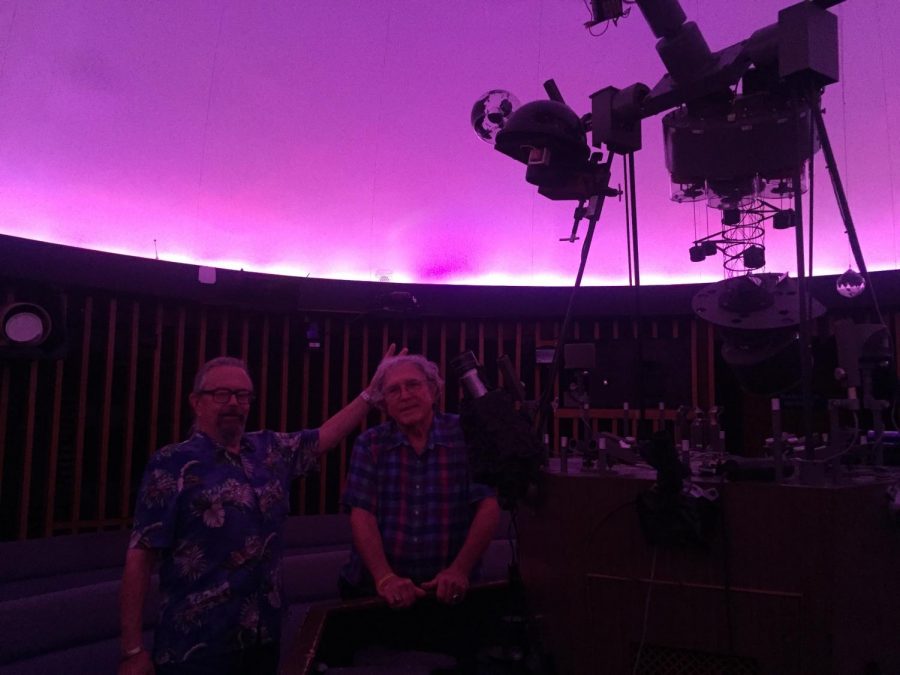 Luis Acosta Jr., Student Government Reporter
October 21, 2019
Robert Allen hosts "Album Encounters" each Friday night in the planetarium located in the basement of Cowley Hall at the University of Wisconsin La-Crosse. Each week, he creates a multimedia light and laser show in rhythm with the selected music. However, he doesn't claim to be an artist. "I have no artistic ability, I print my name everywhere, I can't even do cursive," Allen said while tinkering away with the many outdated but functional devices he uses each Friday night. However, those who attend the presentations believe otherwise. Allen dances through the show while flinging laser pointers onto the planetarium ceiling displaying constellations and images in rhythm with music.
Allen developed a good work ethic and a love for music during his college years. In 1966, Allen earned his B.A in astronomy from the University of South Florida-Tampa. While in school, he worked 15 hour shifts for a supermarket warehouse. "I figured the fraternity boys would be out partying all weekend long, and when I'd wake up Sunday morning after a long shift I wouldn't be behind. I just didn't make time to socialize," said Allen.
During his rare free time, he'd go to clubs and bars to dance. After graduation, he decided to make the jump to graduate school, even if he didn't know what that meant at the time. Allen said: "When my college advisor talked to me about graduate school I said 'wait, college is only four years, what're you talking about?"
After graduation, Allen went to the University of Michigan-Ann Arbor to earn his M.A in Astronomy. One of the only musical groups Allen saw during his time in Michigan was Ravi Shankar, the sitar virtuoso. "Detroit was only 25 minutes away but I never made time to go to a concert," said Allen. "Either other people weren't driving me to go see a show or I just wasn't tuned in entirely." This didn't stop Allen from making connections in the music business, as he had many friends who worked for music publishers and production companies he's met through his passion for music. He's a regular backstage pass holder for venues including the Alpine Valley Music Theater.
In 1969, Allen came to UWL, where he taught astronomy and worked as the Planetarium Director.
"Well over 80 percent of planetariums in the United States are digital," said Allen. "The one we have here is optical, dating back to 1966." The A3 projector operates as an integral piece to the planetarium and has undergone several modifications with outdated light bulbs that date Allen's time at UWL. Allen, an emeritus professor since 2003 with over 35 years of teaching experience, has made use of the projector's basic features.
Tom Thompson has been an assistant for Allen for around five years and is seen at times running the Album Encounters whenever Allen is out of town. Thompson, who is a part-time musician, prefers a stripped-down, bare-bones style for the presentation. He said how much he prefers the crisp, traditional projection of the A3 compared to newer models. Each person involved in the Album Encounters brings their own unique style and taste to the presentation.
When Allen moved to Florida in 2006, the program was passed on to a faculty member of the physics department for two years. "He cut out the music and public programs due to the lack in the budget and in planetarium training," said Allen. In 2011, Allen retired from teaching and moved back to La Crosse to be closer to family and, he says, the planetarium.
"When I moved back they told me to 'please, take this over," said Allen. "My wife asked me when we moved back to La Crosse, 'how much longer do you plan on doing this? And I told her as long as my health lets me. It's a passion."
A simple tube type amp, a turntable, and small mono tape recorder is what Allen had when he took over the planetarium. "It was not much for a strong studio or audio equipment, but at least there was something here," said Allen. When Allen first came to La Crosse, he had no stereo or television and was forced to entertain himself with only an A.M – F.M radio. He knew that that the planetarium had the means to play music out of actual speakers instead of a small, batteries powered ones, so he took advantage.
"I was at a record store with a woman I was dating at the time, and she had picked out Pink Floyd's Ummagumma, but I didn't have a turntable, but the planetarium did," said Allen, which marked the beginning of the album collection he now puts on display. "I would come down here with friends and hang out, listen to music. Sometimes I would have music playing while I worked, and I'd hear something in a song that just had to be visualized."
A former student-turned-friend convinced him to open the light shows to the public. When the program first opened its doors, the charge was a 10-cent donation. Back then it was known as "Album Hour," where he played current releases and which Allen felt to be a time constraint. "It meant that you'd have to cover the rest of the hour with another album," said Allen, which forced him to think more creatively on how he should go about entertaining his guests.
His solution was to create more visualizations. He used a vast array of video subscriptions, mail order services, and local libraries, and began displaying nature, science, and other educational films while the album played. Allen was able to innovate the way in which people enjoyed music. "What happened was people were missing portions of albums that album-oriented F.M radio stations would play," said Allen. Allen made it possible for La Crosse to enjoy an album in its entirety and see if they'd like to buy it, with the added visualization of lasers and videos.
Albums were easily accessible for Allen, as he was fortunate enough to have fellow music lovers as friends. Deaf Ear Records, located in downtown La Crosse, supported Allen's album encounters, providing Allen with the records he needed for the presentations. "When I had the proper connections at Deaf Ear, I would walk in and grab whatever I wanted," said Allen. "They'd tell me anything from the bin holding the records for their club and anything new wrapped in plastic was up for grabs." The store would then sell the albums Allen used in their used bins, making it more accessible for those who attended the performances to buy the album at a cheap price. Deaf Ear Records and Allen ended their 40-year partnership in the spring of 2019.
Allen sees no use in changing his ways, and Album Encounters continue to occur every Friday night during the school year. He has been able to draw a strong crowd year after year, with attendance numbers reaching over 70 people in the small quarters of the planetarium.
"We'd have some people sitting on the floor 'Lennon style," said Allen. Recent attendance has been low, however. When asked why he still uses record players, projectors, speakers and receivers dating back almost a decade, Allen says he likes to keep things as traditional as possible.
In 1969, Allen stood in line for hours waiting to get tickets for Led Zeppelin. "When I saw them in Minneapolis, my jaw completely dropped. Watching how happy Robert Plant and Jimmy Page were up there playing, it made me wonder how anyone could ever be that happy making a living," said Allen. But the way he carries himself around the science building he's known since its beginnings, it's easy to see that he's finally found that same love.
Album Encounters are presented every Friday classes are in session at 8 p.m. in the Cowley Hall Planetarium. Admission is 5 dollars for everyone.