"We're here to listen— I want to say that again— we are here to listen." : Campus Climate hosts open forum to listen to survivors of sexual misconduct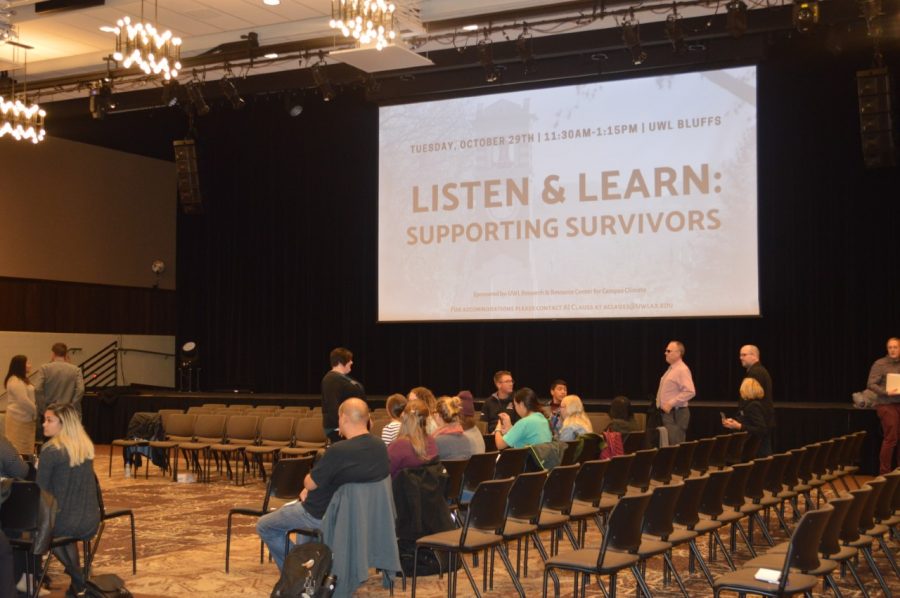 On Tuesday, Oct. 29 A.J. Clauss and their colleague, Andrew Ives, gathered in the Student Union to provide an open platform for students and faculty to share experiences and ask questions regarding recent sexual misconduct allegations at the University of Wisconsin-La Crosse campus.
While introducing the forum, Clauss explained why it was being offered, "so that those of you who need space to say things can be heard. We wanted to create a space to discuss the impacts of sexual violence and misconduct at UWL. We wanted space to discuss Title IX and the Clery Act, to get some clarity. We want to use this space to hear from survivors, those impacted, and those who care about the overall campus climate." 
The event began with a summary of Title IX Investigation process, a conversation supplemented by the addition of a visual aid, provided below.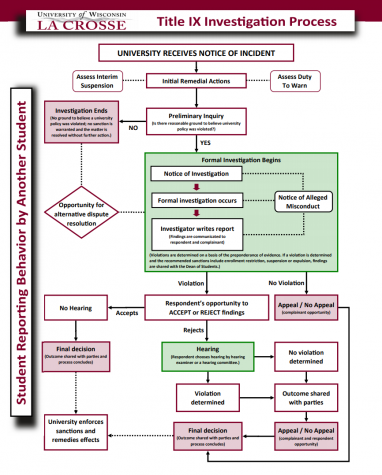 Ives stressed that this is the most time-consuming aspect of the process. It involves interviews with those involved— including both parties of the complaint and any and all potential witnesses— and a comprehensive written report. After the formal report is filed, the accused has the choice to either reject or accept the findings. Should they reject, that is then that a hearing is held. 
Ives explained that sexual misconduct cases by nature often lack hard evidence, so the legal system recognizes this by lowering the burden of proof for such cases. "We use a preponderance of evidence standard."
On the scales of justice, beyond a reasonable doubt is the most commonly known burden of proof. One step below beyond a reasonable doubt is clear and convincing evidence. However, Ives said, in sexual misconduct cases, the burden of evidence becomes less weighted at the preponderance of the evidence. Which according to Ives, means, "More likely than not, something occurred." 
"What's really important is that UWS Chapter 17 added this in specifically for cases of sexual harassment and sexual misconduct. Because we know that these are interpersonal, and oftentimes the standard of evidence is different than clear and convincing evidence or beyond a reasonable doubt," said Ives.
Among those present was Nizam Arain, UWL's  Title IX Coordinator and Director of Equity and Affirmative Action. After Ives explained the general process, Arain went on to describe the systems in place for faculty and employee involved incidents. 
"Thematically what you would see in a situation where a student would be filing a report, alleging misconduct, about an employee, or where an employee is filing a report about another employee, from a philosophical point of view they are very similar procedures. There are some different legal and procedural guidelines that apply. A lot of which is about who is running that process. When a report comes in it, it comes in in the same fashion [as described above]. It is evaluated by my team." 
The Title IX team consists of Arain, Greg Phlegar, Kara Ostlund, and Ingrid Peterson, all from the Student Life Office, Alan Hill, the Chief of Police, and John Arcado, the Director of Student Resources.
"On the employee side, [of Title IX allegations] our initial process begins with asking the question— what are the immediate needs of those involved? Then, similarly to what Andrew [Ives] said, an initial inquiry is then started," said Arain. 
The floor was then opened to students who wanted to voice their concerns. Questions ranged from the rights of respondents and complainants to legal attorney, to the agency of the University itself in its ability to create more effective internal rules. 
Students avoided speaking or asking about topics directly relating to current open investigations or comments including names, out of respect for the legal process. Questions were answered in majority by the Title IX coordinator, but comments and supplements were added by the other faculty present as well. 
Officiants wanted students to know that the event was hosted through their office with no affiliation to administration. Also as a result of conflicting schedules, Chancellor Joe Gow was not present. 
On Thursday, Nov. 14, Chancellor Gow will be hosting his annual open forum and encourages students to attend. The event will not be relating directly to sexual misconduct issues. The open forum presented by Campus Climate avoided case details and focused instead on questions relating to the involvement of students. 
Alyson Young, a women's, gender, and sexuality studies major, directed a question into the audience relating to the scale of what is deemed important enough to inform students of. 
"I brought up the shooting near campus as an example and the lack of transparency about predators on our campus, and one of the police officers answered my question directly and politely, essentially saying that they recognize that they should have sent out an email. I then responded by saying that when it comes to sexual misconduct on campus, why aren't we being told about allegations, even if they are vague enough to not give out too much information, to at least inform students to be cautious in these spaces? I made sure to explain that I understand due process and preponderance of evidence but that our safety as students is also important," said Young in a statement to The Racquet Press about her question. 
Dr. Betsy Morgan, Provost and Vice Chancellor of Academic Affairs, helped to answer her question by addressing the need to focus energy on preventative measures and campus climate change. No examples of what these measures would look like were given. 
"Near the end of the session, some participants suggested the potential of the university notifying students at-large when/if a faculty was under investigation. I questioned the potential benefit of that type of notification. From my perspective, it is neither helpful to students nor appropriately regardful of the due process needed for any individual (accuser or accused) involved in an on-going investigation of an alleged occurrence. I think a focus on culture change associated with the prevention of sexual misconduct and the provision of resources to those who have experienced it is more proactive and effective responses to concerns about sexual misconduct on campuses for students, staff, and/or faculty," said Morgan in a separate statement to The Racquet Press. 
Phlegar, a member of the Title IX team, assured students that reporting practice terms are complicated in their specificity but simple in logistics. He emphasized that "Clery requirements are at the forefront of UWL official's minds and that regardless of the effect on public relationships, it is the school' s intention to only release what is necessary and important." He stated fines and student-faculty relationships as an effective incentive to do so. 
An anonymous UWL student explained how they felt about the ASR reports: 
"The ASR for last year said that there were five reported rapes on campus. However on the website that was created, it explained that that number was much higher, it was somewhere north of one hundred. And because of some reporting done by The Racquet Press, we found that the reason why the number reported was so low, was because those were the numbers reported that had gone forward, and concluded an investigation. Why do you choose to report the lower number? Because I went into counseling and testing, and filed a confidential report because I needed help. And because I wanted others to know that this happened to me. And because I found a little bit of comfort in being a statistic," said the student in response to the technicalities of reporting according to Title IX team members. 
For further information or clarification about the sexual misconduct allegation process, contact Nizam Arain at [email protected] or Andrew Ives at [email protected], and visit the UWL Clery Act page at https://www.uwlax.edu/police/annual-security-report/.