Bad Bad Hats performs at The Root Note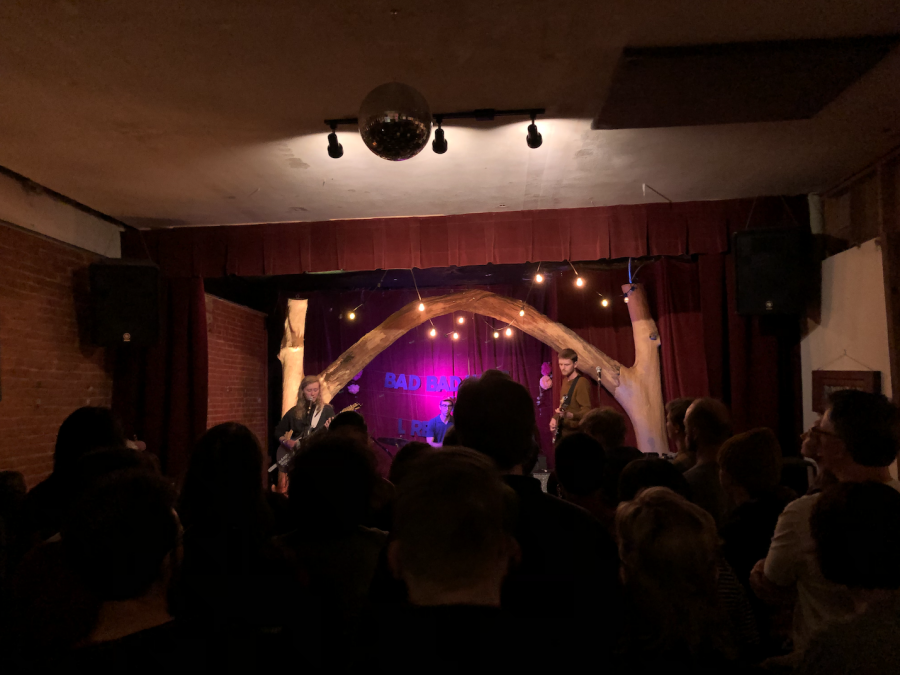 Luis Acosta Jr.
December 20, 2019
Minneapolis based rock band Bad Bad Hats performed at the Root Note in La Crosse on Saturday, Dec. 7 while touring their newest album "Lightning Round" and EP "Wide Right." 
The band consists of Chris Hoge, interim bass player and full-time multi-instrumentalist, Kerry Alexander, lead singer, and Connor Davison, drummer.
They have toured with bands such as Third Eye Blind and Death Cab for Cutie. "We opened for Death Cab in Harrisburg, Pennsylvania for a crowd of 3,000 people. We got there a day early out of nervousness, but we may have siked ourselves out a bit too much to the point where reality set in" said Alexander. "But it was exciting too, there were a few moments where you meet people you idolize, and it's great to have the feeling of 'oh, these people are just like me.'"
The name "Bad Bad Hats" may be familiar to those who have read the Children's book "Madeline," with the trouble-making neighbor in the story adopting the nickname "Bad Hat."
Lead singer Alexander was at times was labeled as a "Bad Hat" by her parents whenever she acted up. "I hated being called a bad hat, because I was generally a good hat," said Alexander. "The name felt like a sort of nod to my past. Starting a rock and roll band has probably been the 'baddest' thing I have ever done, so this is like my one 'crazy' moment."
One story Alexander likes to share is how the National Football League (NFL) Buffalo Bills of the 90's influenced the title for their recent EP release "Wide Right," eluding to the missed 47-yard field goal attempt by Bills kicker Scott Norwood during Super Bowl XXV, nicknamed "47 wide right." As a Bills fan and a Buffalo native, it came from a place close to her heart, but not necessarily one that is football related.
"I thought to myself when I heard the phrase from the super bowl 'Wide Right' that it had a nice ring to it, but it has more to do with just barely missing out on true love instead of Buffalo Bills football," said Alexander during their set. "There's something special to me about the way you experience first love, so I try to remember what it was like to be in love for the first time."
Since joining the band, Hoge, interim bass player and full-time multi-instrumentalist, has been able to adopt each instrument in the band. In the music video for "It Hurts," where the band is seen performing in the middle of a hockey game, Hoge can be seen on the drums staying in time with Boswell and Alexander. "It's kind of funny because now we are pretty solid hockey fans, especially during the playoffs, but when we filmed that video we knew very little about hockey," said Alexander.
Percussionist Davison began drumming around nine years old. "My friend started playing the drums so I thought 'well I have to do that too,'" said Davidson. While performing in an orchestral program in college, it became clear to Davidson that it was not the path for him.
"I dropped out and I didn't think I was going to do music again, but when I moved to Minneapolis from Texas I slowly found my way through the music scene there, and eventually here," said Davison. "The midwest has been interesting. After moving around a lot and eventually finding myself in Minneapolis for an internship, I had every intention to leave after a year there; but Minneapolis really gets under your skin, in a good way. It ended up being the best place for me."
On their new album "Lightning Round," they decided to experiment with new methods of music production. They were encouraged by their producer Brett Bullion to organize themselves during recording sessions on how they would if they were to play a live show.
"It feels real to play together like that; it makes it easy to get a point across. It's been more fun doing it this way, it feels cool to feel like a real band," said Hoge.
"It was a discovery process. Since it was originally Chris and me doing the recording, just the two of us, and because I didn't feel quite experienced musically in a way that could let me try different stuff, we ended up doing one track at a time. It didn't occur to me that we could be a band that could record a take all together, so it was exciting when we got to the studio after touring with 'The Front bottoms," said Alexander.
"I realized I could start playing the guitar in this type of live setting and come up with ideas on the fly," said Alexander. "Our song 'Wide Right' was a totally different concept, and a guitar line came about out of nowhere which influenced the eventual outcome of the song."
"It's about trust, and we really trust each other," said Davison. Having been compared to the Irish rock band "The Cranberries" due to the way they play their live set by mixing heavy tones with pop-ballads, but Bad Bad Hats feels otherwise. "I don't really see it, but it is interesting that it's a consistent comparison," said Davison.
As a band who signed to a label early on, the term "indie rock" is somewhat difficult to generalize. "I don't claim to be breaking new ground musically," said Alexander. "As a pop music lover in general, there are different sounds and bands and tropes we take from, which helps us continue the great tradition of pop-song writing."
On being present in the social media age Alexander said, "As much as we know it's importance, there needs to be a balance with being genuine on the internet, and sometimes that may mean not posting as much."
As a band that "dabbles in humor" according to Davison, they aim to capture what the group is like. Their Instagram is compiled of information for their live shows and albums, with one post in particular where Alexander asks fellow Bad Bad Hats fans to recommend their favorite sandwich spots as they travel across the country.
Bad Bad Hats will be playing the Winter Ball at the First Avenue in downtown Minneapolis, MN on Dec. 21 with bands such as "Ratboys" and "Last Import." Their new album "Lightning Round" is out now out on all streaming platforms.