Common Ground Campus Ministry: Pastor Ben
"It takes vulnerability to walk into a space that you don't know, especially a religious place. Spirituality is important and is a very human expression and we are welcoming of all spiritualities," said Pastor of Lutheran Campus Ministry at Common Ground Benjamin Morris. "Wherever people are in their life's journey, we welcome them. It is a privilege to be able to be with people and walk with them on their spiritual paths." Morris has been a pastor of the Lutheran Campus Ministry at Common Ground for five years. 
Common Ground Campus Ministry is located on the corner of 14th St. and Pine St. and accepts all faiths and beliefs. "We are committed to a very broad, and open hospitality. We have a very large understanding of the inclusion in the Gospel. We are open, inclusive and affirming of the LGBTQ+ community, we believe that women's rights are human rights, and of all the groups that make up this place, we affirm the full role of all genders in the church," said Morris. "Not to try to denigrate the other ministries on this campus, but that is what really sets us apart." 
Morris says Common Ground is a safe place for people to come together and celebrate their spiritualities. "We don't have an agenda for people, we try not to see people as the next group we are trying to convert to this way of believing. We all exist in a complex world and religion is a complex thing. The community is open to all people and we try to walk alongside everybody," said Morris. 
Common Grounds mission is to: Love God, Love People, and Serve. "We believe that the best way to love God is by loving our neighbors, and that means all of our neighbors. We see that Jesus was always standing with the oppressed and marginalized and we try to do the same thing wherever we find ourselves," said Morris. "As I think about all the folks I'm going to miss that graduated recently, I hope they will take what they gained with us and spend their lives in service to their neighbors." 
The Ministry gathers every Sunday night at 7:07 p.m. throughout the semester. "It is a really open space. We try to emphasize questions more than answers, and we try to emphasize participation and input. Plus, we have some pretty rocking musicians and really good coffee," said Morris. 
Common Ground has members from many different backgrounds and beliefs. "We have small group ministry that meets throughout the week to have dinner, we always serve a vegetarian meal," said Morris. "We have students who are atheists, some who are maybe curious or their friends are here, and we have students who work at our summer camps every year, and everyone in between."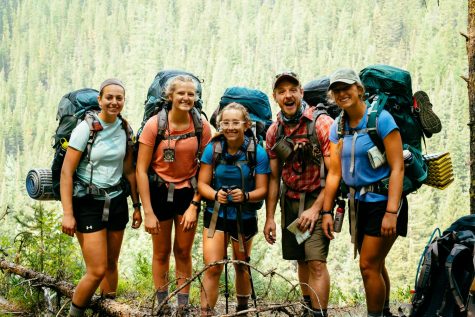 Common Ground also provides opportunities for members to take trips across the U.S and internationally. "The day after Christmas, I'll be taking 14 students to Thailand where we will spend three weeks working with a ministry. Every Spring break we travel to the Pine Ridge Reservation and travel alongside, as companions, the Native American Student Association," said Morris. "We will also be going to the Czech Republic in May, to learn how a church survived brutal totalitarian systems and was subversive against the state." 
Morris believes connecting with nature is important for each person and allows students to partake in backpacking and hiking trips. "I take students on backpacking trips out in the mountains, because I think wilderness immersion is important for all people," said Morris. "The idea is if you spend time with us here at Common Ground, throughout your four or five years you'll have opportunities to travel internationally. We get to build a community for those who go on the trips, we get to push our limits and experience new things."  
Morris is also the founder of 'Free Cookie Wednesday,' held in front of the Hoeschler Tower. "Often times, the public spaces on campus serve two purposes for the people who occupy them for different reasons. A lot of times very religiously minded people will go to those central areas to yell and judge people, or it is a place where transactive economy sets itself. 'Sign up for this and you can get this'," said Morris, "The idea was that if people were going to stand out there and yell, we would try to subvert that space and subvert that understanding of religion by giving out cookies." 
Free Cookie Wednesday isn't designed for publicity or advertising, Morris simply is hoping to make students' days better. "At no point do we identify that it is for Common Ground. I just stand there and yell, 'Free Cookie Wednesday!' We don't do it so people will join our ministry, we don't do it to get our name out, we just do it to give out cookies," said Morris. "There are 10,000 students on campus, some are having great weeks and some are having absolutely terrible weeks, and we hope maybe a cookie can make them smile."  
Morris says that college is a time for students to use their voice and stand up for what they believe in or are passionate about. "A lot that is good in the world is under direct assault by the awful things happening right now and optimism isn't enough. Optimism is kind of passive and saying, 'it'll get better,' but unless we are working towards justice, nothing will get better," said Morris. "If we are going to make the world better for our neighbors, and those who come after us, we need to ground ourselves in a story that is bigger than our own. The world can't wait while people sit around and be optimistic." 
To learn more visit, Common Grounds MyOrgs page, or email Pastor Ben Morris at [email protected].