Letter to the Editor: Witness Matamoros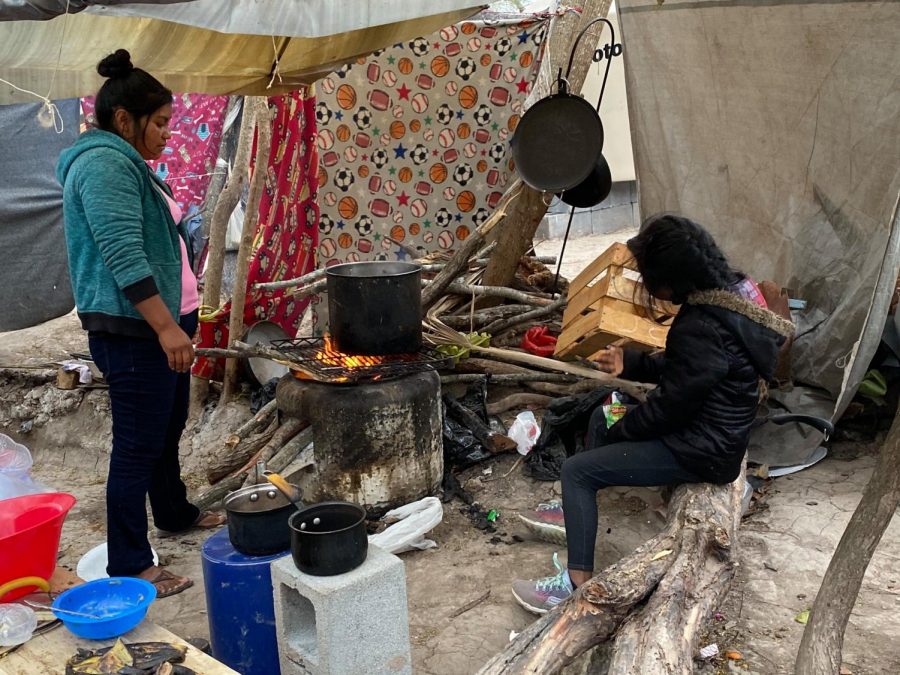 K.C. Cayo, Guest Contributor
January 29, 2020
I went to the encampment in Matamoros, Mexico, early and alone to feel the camp awaken. There are about 2,500 people in the camp as a result of the Remain in Mexico (MPP) program with no meaningful services or support provided by the U.S. or Mexican Government. 
Today it was cloudy, much colder and very windy with a feel like temperature of around 50 F. As I crossed the bridge and Rio Grande under leaden skies, I entered Matamoros, a U.S. level 4 risk, the same as Afghanistan and Syria. It's obvious from the stories I've heard from asylum seekers and resident humanitarian workers, that kidnappings, beatings and rapes are everyday occurrences here and along the border. 
That said, as soon as I entered the encampment, I felt safe and calm in an embrace to true community. 
I walk south along the dirt levy with tents along both sides, some with battered tarps to protect from rains. It was quiet and peaceful. People are waking and resting in their tents to resist the biting wind outside. Among the hacking sounds of the grackle birds I hear children in their tents talking to parents, in one a radio played softly, and I hear what sounds like a mother and her daughter singing. Fathers are walking with their children, hand in hand. I walk about four city blocks to what is now the end of the camp, and the park now continues to stretch into the distance. At the end of the camp, as the park grows barren and vacant, I begin to feel vulnerable and turn around and again feel the safety of the camp and return down another dirt lane in the camp. 
People are coming outside to brush their teeth, and some braving the chill to wash their clothes in hopes of getting one of the ten communal sinks. There is no running water in the camp. Water is collected from tanks in buckets and taken back to the living tents. No one is braving the cold in one of the forty outside concrete showers stalls open to the air only shielded by a plastic curtain. I pass by the charging station with forty outlets. where a handful of people are standing but with every outlet utilized with people who trust enough to leave their phones unattended. I'm pretty sure none of us would do that in an airport of park. 
Smoke begins to rise in the camp as campfires are lighted and breakfast is started. Rice is cooking at one tent, meat and squash boiling at another, and oatmeal and coffee at another (with a Bible next to the stove for reading since it is Sunday). I see a man buy a stringer of fish that were caught in the Rio Grande, a very polluted river. Wood is being harvested along the river to keep fires burning. 
Children begin to come out of their tents now and some are now familiar with me and I with them. They share a smile and laugh with me. Parents greet me with a smile and wave and happily show me the meals they are cooking. 
As I walk out of the camp for a bit, the calm and serenity of my walk evaporates, and anger and sorrow fill the void. The policies of this administration, including MPP (Remain in Mexico) and the severe lack of court due process, is decimating the legal right to seek asylum in this country. As of November, only 11 cases were successful out of 10,000 cases completed. And the new stealth policies of PACR and HARP will ensure that decimation becomes the annihilation of asylum in a country that once embraced those in need with compassion. With HARP and PACR asylum seekers will be (and are now) herded onto planes and whisked to Honduras or Guatemala without even a shred of due process. 
What has drained the compassion and empathy from our pool of humanity and replaced it with rancor and injustice? When did we decide as a country that we would slam the door on deserving people, many of who are children, and abandon them to face a world of dark danger? I know these people. I have walked with them, I have played with the children, I have eaten at their table, I have seen moms and babies and special needs children with a right to be in our country denied access and return to cry at their tents. 
I challenge anyone who agrees with these policies to come here, spend days in the camp and in the court. Not in staged visits with handlers that avoid the ugliness that permeates the process and not as a fly by photo opportunities to check the box that says "I have been to the border." 
____________________________________________________
Letters to the Editor do not reflect the beliefs or values of The Racquet Press.