Elect Her registration open until Feb. 28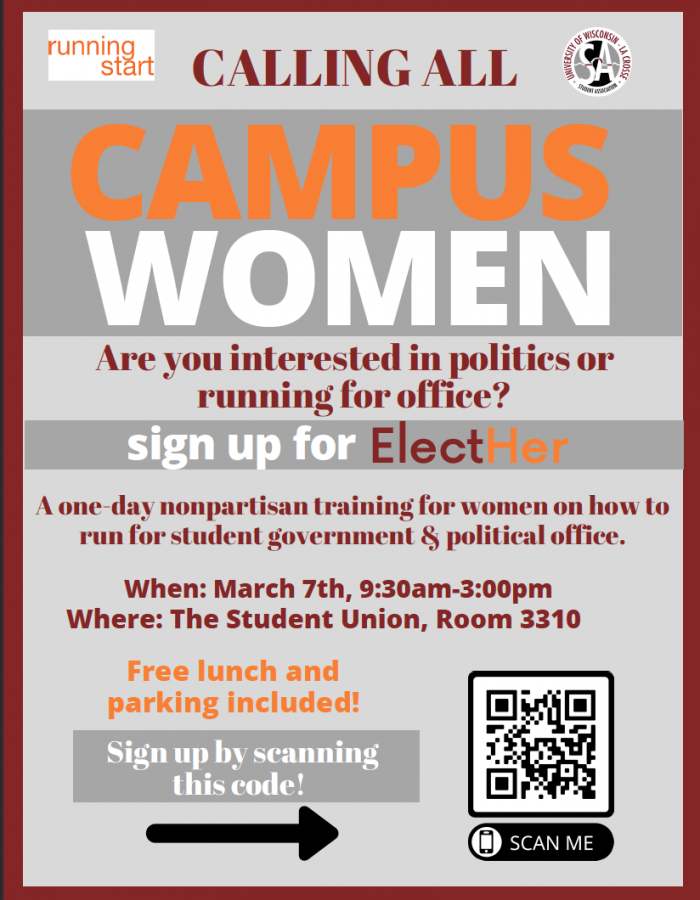 Dana Nielsen, Guest Contributor
February 21, 2020
When women run for office, they are elected at the same rate as men. The problem is that women tend to not run for elected positions as often as men do. Student Association (SA) is partnering with the nonpartisan, nonprofit Running Start this Spring to encourage women to reach for leadership roles on campus or in the community.
Saturday, Mar. 7, will be a daylong workshop entitled "Elect Her" that will teach participants how to run for leadership roles. This is the second year Elect Her will be at the University of Wisconsin-La Crosse and SA is very excited and looking forward to a successful day.
Running Start will be providing a facilitator to run through exercises with participants to help them hone in their skills and build on their confidence. SA has also been putting together a panel of elected women in office to speak on their experiences and answer questions.
Confirmed panelists as of now include Rep. Stubbs and Rep. Billings. We are also hoping to receive a personalized video from U.S. Sen. Baldwin.
Elect Her is set to run from 9:30 a.m. to 3 p.m. and will take place in the Student Union, room 3310. Elect Her is FREE and lunch and parking will be provided.
Students can register for Elect Her through this clicking this link.
Please register by noon on Feb. 28 if you would like to attend. Also, please note that while Elect Her is centered around getting more women into elected positions, you do not have to identify as a woman to sign up! Everyone is welcome!
SA encourages you to attend Elect Her if you want to become a leader in the future. Reach out to your friends who you think would make great leaders and ask them to go too. Research shows women often need a little push before considering running for office. So give your friends that gentle nudge and tell them to sign up for Elect Her!