Photo Series: La Crosse experiences 'pandemic shopping' in the wake of COVID-19
With the recent announcements of La Crosse public and private colleges switching to online, and K-12 schools canceling classes, some La Crosse residents have been shopping in large amounts.
Toilet paper, cleaning supplies, canned foods and other shelves now run empty. This is impacting residents of La Crosse and as well as the workers that are re-stocking the items.
We talked to three employees who are all University of Wisconsin-La Crosse at three different stores in La Crosse or Onalaska: Jordan May, employed at Walmart in La Crosse, Nick Shankey, employed at Festival Foods in La Crosse on Copeland Ave and Matt Riley, employed at Target in Onalaska.
Jordan May, a sophomore at UWL, employed at Walmart:
May stocks food aisles at Walmart in La Crosse. He said he has not seen many people in canned food aisles, but there has "definitely been a shortage of toilet paper."
He also commented that hand sanitizer and Lysol wipes have been popular as well. "I haven't even seen them [hand sanitizer and cleaning supplies], they're going that fast," said May.
May shared that there is now a limit of two hand sanitizer per person, and he feels like this will soon include other products. May said that he hopes UWL students keep washing their hands and remain healthy.
Nick Shankey, a fifth-year at UWL, employed at Festival Foods:
Shankey works at Festival Foods as a clerk in the Wine and Spirits section. He has noticed that there has been an increase in 'pandemic shopping' at Festival Foods since the number of COVID-19 cases in the U.S. has gone up.
"I think people are overreacting a little bit. If you contract the virus, the quarantine period is two weeks, but people are buying amounts that should last them a month or two. That being said, I'm happy that people seem to be proactive about preparing themselves. It's just hard on the store as a whole," said Shankey.
He has noticed toilet paper, hand sanitizer and cold and flu medicine selling the most. "People have also been buying a lot of bottled water and paper towels. Non-perishable food items like canned soup and boxed pasta are also selling quite a bit," Shankey said.
Shankey said this does not impact him much in Wine and Spirits, but that it is still "a lot of strain" for those who work in grocery.
He feels like 'pandemic shopping' is not fair to other shoppers. "There are videos of people at other stores fighting over toilet paper, and it's not fair that people don't have access to items that are essential to basic hygiene. Some people are leaving stores with enough groceries to last them until May, but other people are left with nothing," said Shankey.
Matt Riley, a senior at UWL, employed at Target:
Matt Riley works at Target as a front of store attendant. He has notice that toilet paper is selling "a ton," and other items such as baby wipes, paper towels and tissues are all selling quickly.
Riley said, "I think it's [pandemic shopping] a little extreme at the moment to try and over shop for these items and unfair to other guests who actually need these items."
He wants shoppers to focus on only buying the items they actually need. "Don't worry about buying rolls on end of toilet paper at the moment (especially since you can't right now because everywhere is sold out)," Riley said.
About the Contributor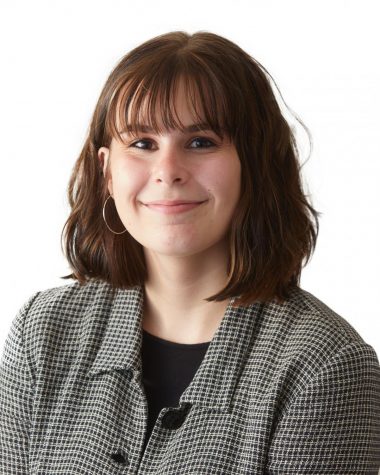 Sam Stroozas, Executive Editor

Year at UWL: Senior
PGPs: She/Her/Hers
Hometown: Hudson, WI
Major: English with an emphasis in Writing and Rhetoric, Communication Studies...