Explained: What UWL students need to know about COVID-19, traveling and flattening the curve
The University of Wisconsin-La Crosse decided to move classes online for the duration of the semester beginning March 30. The majority of students staying in residence halls went home and it is not known how many off-campus students decided to stay in La Crosse.
Regardless of where a student is, and even if they are young and healthy, all college students are encouraged to stay at a primary residence.
In an article for Vox, staff writer for Vox Kelsey Piper explained that the idea of social distancing as a young person is not only about protecting yourself, but more so people in your community, and any vulnerable populations.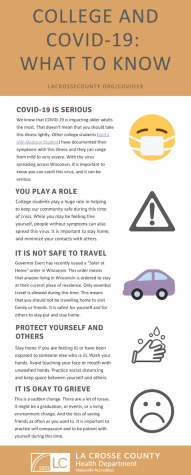 "Here's another way to think about this: If you are young and healthy, you ought to take precautions because doing so can end up saving someone's life," writes Piper. "In fact, taking precautions like social distancing is likely one of the more important things you can do to protect sick and older people in your community and to shield our society from the kind of catastrophic effects the virus has had in countries where it has overwhelmed first responders, hospitals, and morgues."
They also point out that practicing social distancing and self-quarantine now will help make the outbreak happen slower. By doing this, we can help the hospital system and ensure that everyone who needs hospitalization can seek it out.
For some college students, the idea of doing something that can feel simple yet isolating can be hard. We may seek out going to a friends house, seeing significant others, going home for the weekend, or going to a vacation home, but overall the La Crosse County Health Department said you need to stay in one spot, even if the people you are going to visit have been self-quarantining too and you are being 'careful.'
In fact, 25 percent of people who have COVID-19 are asymptomatic, meaning that they show no symptoms but still remain an active carrier.
Some college students think that because they are young and healthy, their personal risk is low, but this is not the case. Amy Shircel, a senior at UW-Madison has been sharing her story online after she contracted COVID-19. Although she was on a departing flight to Portugal in early March, it was the same day the U.S. government imposed a travel ban on most European countries, making her book a flight home immediately.
In an interview with The Daily Cardinal, Shircel said:
"I was liking jokes about it on Twitter. I was making jokes about it myself. I kind of felt like the invincible 20-year-old that was not going to be harmed by [COVID-19] in the long-run."
She shared that her process felt "dehumanizing" and she wants other college students to know this can happen to them too.
"Even if you think you're healthy, even if you think you're invincible, you can be like me and feel like you could almost die from it," Shircel said. "I think my message is that you should be scared for yourself because I wouldn't wish my experience with coronavirus on my worst enemy."
Shircel did not have any underlying health conditions.
A HuffPost article explained that social distancing does not just mean avoiding groups of 10 or more, but "also staying home and not visiting seemingly healthy friends at their homes."
Jagdish Khubchandani, an associate chair and professor of health science at Ball State University said, "You are playing with fire if you visit your friends. At this point, we have to act like everyone is infected. You can be a risk to yourself, your family, your friends, and the entire community."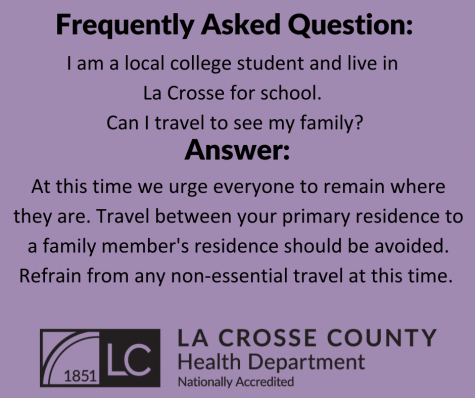 The La Crosse County Health Department advises that all students stay at their primary residence and avoid all non-essential travel. Essential travel means going to get a prescription, the grocery store, the hospital, etc. All we have to do is stay in one place, and with the era of technology we have, it is now easy to spend virtual time with others. Although this is an adjustment, not following protocol only puts yourself and others at risk.
If you have any questions specifically about the La Crosse community, please reach out to the health department.
As of 3 p.m. on April 3 there was one new case in La Crosse County, and 20 cases overall with 14 recovered and one of the two hospitalized has returned home.
About the Contributor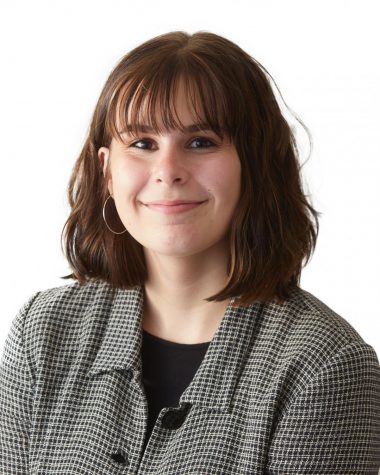 Sam Stroozas, Executive Editor

Year at UWL: Senior
PGPs: She/Her/Hers
Hometown: Hudson, WI
Major: English with an emphasis in Writing and Rhetoric, Communication Studies...