Humans of UWL: Carly Rundle-Borchert
Carly Rundle-Borchert has worked with us for three semesters. She first began as our student government reporter, and then moved into a new position we created for her talents: Photojournalist. While working as our first photojournalist, Rundle-Borchert has fostered a new era of storytelling through her photo series and HUWL's columns. While working for us, her most-read story was "Opinion: Palm oil consumption in relation to deforestation," with 517 views.
"My five years at UWL has been a wonderful journey of trial and error. I've never been the type to follow a strict itinerary or recipe, much less a strict life plan. My parents never rushed me, saying that life is like a sculpture; carve away what doesn't suit you.
And I did just that.
I dabbled with courses in therapeutic recreation and recreation management, but something felt off. I was too confined. I decided to do some soul searching during the Summer of 2017. This led me to the Ann Van Dyk Cheetah Sanctuary in South Africa and to an equine therapy ranch in Colorado. I reaffirmed where my passion and purpose lie. I knew I wanted to shed light on forgotten ecosystems and animals on Earth and to be the human voice they lack.
My first camera was gifted to me at age 10. I've always been very fortunate with parents that supported and fueled my love for writing, photography and the natural world. I'd always shunned these fields for myself, thinking… they're too competitive and there isn't much money in them. But I realized I'd never forgive myself for taking the easy way out and turning my back on what kept drawing me in.
So finally, the fall semester of my junior year, I declared my major—English: writing and rhetoric—and my minors—photography and environmental studies—which somehow paired perfectly with the psychology minor I had already acquired through therapeutic recreation courses.
These pieces all came together in the form of The Racquet Press: UWL's Student News Source, where I became their photojournalist. 
I'm very grateful for the professors and fellow students that enriched my time in La Crosse and continued to encourage me to reach for the stars. A special shout out to my "Racquet family," the Ski and Snowboard Club and to professors: Kelly Sultzbach, Kate Hawkes, Linda Levinson, Tesia Marshik, Erica Srinivasan, Margot Higgins, Alysa Remsburg, Bradley Butterfield and Stephen Brokaw (along with my roommates and many others)," said Rundle-Borchert. 
About the Writer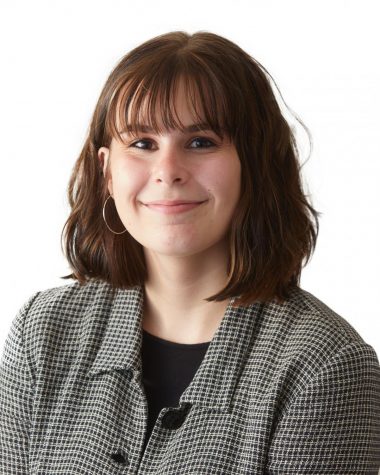 Sam Stroozas, Executive Editor

Year at UWL: Senior
PGPs: She/Her/Hers
Hometown: Hudson, WI
Major: English with an emphasis in Writing and Rhetoric, Communication Studies...