Photo Series: UWL students 'party on' amidst COVID-19 warnings about social gatherings
On Saturday, May 2, University of Wisconsin-La Crosse seniors were set to participate in the second senior pub crawl of the year. Due to COVID-19, this event has been canceled, along with another annual pub crawl: "Lax Bash 2020."
UWL students have taken to their yards to gather and celebrate during the last days of the Spring semester. The Racquet Press talked to students at four different gatherings about the effect of COVID-19 on their plans and how they have adapted their celebrations to follow social distancing, or not.
Patrick Marzano and Tyler Ichella, both UWL seniors, talked to The Racquet Press about their 20 plus gathering on 11th and State Street on Saturday, May 2.
Marzano said that not all of the people who were at the gathering lived at the residency. "These are all of our close friends so we are comfortable in this space. We have been careful but we have opened up to this environment and started hanging out with them. This could be looked down upon, but I think it is fine. In my opinion, we have zero cases in La Crosse."
At 3 p.m. on Saturday, May 2, La Crosse County announced its 30th case of COVID-19, a young girl. 26 cases have made a full recovery while four cases are still active. La Crosse County has also confirmed community spread.
Ichella said he was nervous about having so many people over but then added, "once you start drinking, the worries kind of go out the window."
Marzano said he has been quarantining for the past three or four weeks, and due to the 75-degree weather today, he felt like it was okay to gather with friends. "Today is just the day, it is a nice Saturday. We haven't had a party in a while."
Ichella also said that the feelings of UWL students resonate with him. "We love you guys and it is sad we cannot hang out on campus. I hope everyone is doing well and this ends soon so we can have a better summer."
On 11th street, roommates Alyssa Czerwinski and Sarah Hahn were ringing in the end of senior year. "We are celebrating before we all graduate, we are about to move out of La Crosse so we want to spend some time with our roommates. We are still trying to social distance," said Czerwinski
Czerwinski also said she is pleased with the way UWL has reacted to COVID-19. "I wish things were able to end on a different note, but I am really happy with the way UWL is handling it."
Hahn said that she thinks she and her roommates have been doing the best they can with quarantine. "This sucks, but we all will get through this together," she said.
A second house on 11th Street was playing lawn games and celebrating the end of the second semester. Shaela Roskom said she and her roommates have been with the same group of people, so she felt safe gathering.
Roskom wants to be back on campus this Fall, so she encouraged other UWL students to follow the state-sanctioned rules of social distancing. "We want to be back this Fall, so keep practicing social distancing and do what is right."
A house on 14th Street N. was seen celebrating with "corn-hole," "beer darts," and other games. Carter Hayden and Reannon Hartzell, UWL seniors, said they were "very disappointed" with the second senior pub crawl being canceled.
"We are doing the best with what we got," said Hayden. Seven men reside in the house, but Hayden said that the visitors they have are people they have already spent time with, before and during the quarantine.
"I still feel pretty safe," he said.
Hayden wants UWL students to know they can adapt their gatherings to be safe, but as he added, "still have fun."
_________________________________________________________________________
All interviewees were 21 years and older and the Racquet Press does not condone underage drinking.
About the Writer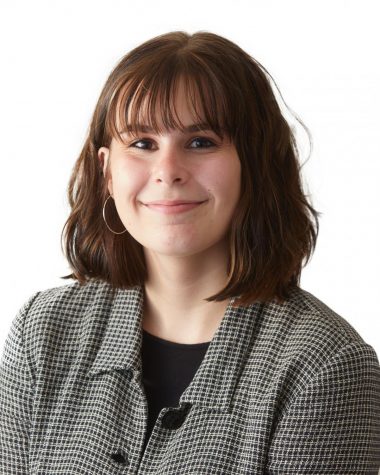 Sam Stroozas, Executive Editor

Year at UWL: Senior
PGPs: She/Her/Hers
Hometown: Hudson, WI
Major: English with an emphasis in Writing and Rhetoric, Communication Studies...