Photo Series: Honoring a renegade; alumna Natalie Poltorak's two years at UWL
Natalie "Sally" (Poltorak) Mesmer attended the University of Wisconsin-La Crosse from the fall of 195o to the spring of 1952. The Racquet Press received an email from her daughter, Susan (Mesmer) Rice about donating Natalie's college memorabilia, including yearbooks, posters, bus tickets, over 40 issues of the Racquet Press, and more. Some are pictured below and the rest will be donated to the archives in Murphy Library. Natalie passed away on August 17, 2019, at the age of 86.
This is not a usual story for the Racquet Press. After interviews with Susan and Natalie's sister, Dorothy, we wanted to share what we learned about Natalie and what life was like at UWL 7o years ago. In 1950, what we know as UWL was named "The La Crosse State Normal School." In 1951, the name was changed to "Wisconsin State College-La Crosse." Most students came to La Crosse to study either elementary education, secondary education, or physical education.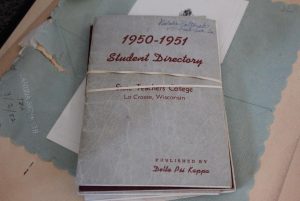 Natalie's father immigrated from Russia, and her mother was a first-generation Ukrainian-American. When Natalie was 17-years-old she decided she wanted to go to college and took two trains to get to La Crosse from Cleveland, Ohio. Natalie's sister Dorothy said that when she left for La Crosse, it felt like her sister "was going to another world."
Dorothy planned to go to college at Kent State University, but because her parents just bought their first home they could not afford to send her to college. When Natalie graduated from high school in January of 1950, her parents told her the same thing. But Susan described her mom as a "force to be reckoned with," and she worked to save her money to attend UWL in the fall of 1950. Susan said her mom was "very hardworking and determined." She never backed down from a challenge, and strongly believed in education.
Natalie entered UWL as a physical education major and loved sports. When she was attending Lakewood High School in Ohio, the director of women's physical education, Adell Kleinecke, encouraged her to attend her alum, UWL. Natalie did not graduate from UWL, as she left after two years to pursue another dream and attended Lakewood Hospitals Medical Technology Program which later turned into her career. She met her husband, Elwin Mesmer, on a blind date after her sophomore year at UWL in 1952 and they were married for 64 years and had two children, Susan and Scott. Elwin resides in Medina, Ohio, and is 90-years-old.
Susan described her mom as "a renegade," someone who was "full of spirit, curiosity, and a zest for life." Susan said her mom did not often talk about her time at UWL, but when she did, the stories included smoking, dating, hidden boyfriends, laughter, and a lot of female friendships.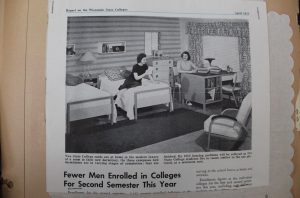 Natalie stayed in touch with many of her friends after her departure from UWL in 1952. Susan said that her mother's two years at UWL were an "immensely important part of her life." She saved many items that were important too, including a few pictured below.
Although time changes many things, for people like Natalie, holding onto many of the small artifacts of meaningful moments in your adolescence makes the time slow down a bit. 70 years ago this fall a 17-year-old woman came to La Crosse to discover what it means to leave home and begin again. We thank Susan (Mesmer) Rice for sharing a slice of her mother's story with us and thank all UWL alumni for shaping UWL into the school it is today.
Scroll through the gallery below to learn more about Natalie and her time at UWL.
About the Writer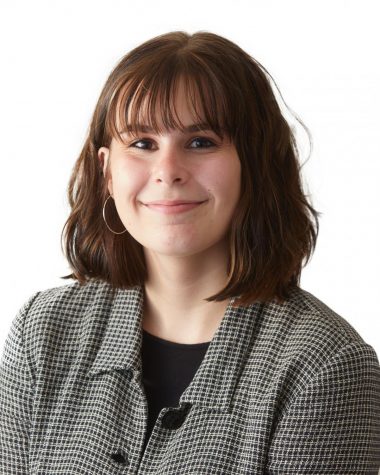 Sam Stroozas, Executive Editor

Year at UWL: Senior
PGPs: She/Her/Hers
Hometown: Hudson, WI
Major: English with an emphasis in Writing and Rhetoric, Communication Studies...