Student Association meets for the final time of the 2019-2020 academic year
Student Association (SA) met for their final meeting of the 2019-2020 academic year on Wednesday, May 6.
Unfinished business included SA1920-057: Resolution to Approve the Green Energy Surcharge Green Fund Grant Request, SA1920-058: Resolution to Approve the Ozzi Reusable Container System Green Fund Grant Request, SA1920-059: Resolution to Approve the New Steam Traps for Laux Hall Green Fund Grant Request, SA1920-060: Resolution to Approve the Stadium Veteran Lights Green Fund Grant Request, SA1920-061: Resolution to Amend Student Senate Bylaws, SA1920-063: Resolution to Approve the Spring 2020 Student Election Results and SA1920-064: Resolution Approving Changes to Student Organizations Committee Bylaws
SA1920-057 was approved and the issue of where the green fund money would be distributed was discussed. There is currently $105,000 in the green fund. Sen. Cameron Neader voiced his support of the University of Wisconsin-La Crosse using the green fund funds as a way to pay for the portion of the surcharge.
"There's so much uncertainty right now. If it's in the best interest of the green fund to pay for it next year than they can, but I think they don't know what's happening in the future. I think one year is good to lock ourselves into but not two years," said Neader.
SA1920-058 was approved and discussion was had about what the Ozzi system would look like in future years. Tentatively, it would begin in the fall of 2021. Currently, UWL spends around $41,000 on take out containers.
Sen. Andrew Ericson explained that the Ozzi container would be housed in the Student Union. "Every place in the Student Union will have the containers and the compostable ones. So, you can use the Ozzi container or pay the 5o cents."
The logistics of the token system for Ozzi containers are still being discussed.
SA1920-059 was approved as well, and Sen. Ericson discussed Residence Life's role in the project. "They [residence life] are still planning on going through with this project and if it isn't funded through the green fund, they'll have to eliminate one or more projects."
SA1920-060 was not approved as it included an additional $15,000 for poles and fixtures on the stadium lights. Sen. Cait McReavy shared her disagreement with the resolution. "I don't think this is an appropriate use of Green Fund money. Compared to other energy-saving light efforts, it doesn't save as much energy. I don't like that students are paying for purely cosmetic purposes," she said.
SA1920-061 was approved and sustainability director Samantha Wolfe began the discussion by saying, "I hope you'll consider making this committee permanent so students can continue working toward sustainable initiatives through the green fund and other things. So, they can have a profound impact on campus."
SA1920-063, the results for the spring 2019 Student Association were approved. Cate Wiza will be serving as president of SA and Olivia Ahnen will serve as vice president.
SA1920-064 was approved after changes made by Sen. Dylan Schock. Schock made language clarifications as well as a purpose change of oversight. SA1920-064 will be added to match what is written in the SA bylaws.
New business included SA1920-065: Resolution to Thank UWL Faculty, Staff, & Administration and SA1920-066: Resolution in Honor of Dr. Larry Ringgenberg with the Thanks of the Senate which were both approved.
Vitaliano Figueroa, vice chancellor of student affairs was a guest speaker and thanked SA for the work they have done during the transition to distance learning and virtual meetings. "I definitely heard about all the great things that you have done from Dr. Larry. I have been very proud when I talk about you all to the other student affairs folks from other universities," he said.
Will Van Roosenbeek, director of the Pride Center spoke about his experience working with the director of university centers and adviser of SA, Larry Ringgenberg. Ringgenberg was set to retire this spring, but due to COVID-19, he has been asked to stay with UWL for another six months.
"SA is something that Larry just shines at. This is something that gives him lots of passion. He really enjoys spending the evenings with you and helping you do the work you're doing," he said.
Drea Higgins, senior student service coordinator also voiced her support of Ringgenberg's work during his time at UWL. "I've said this a million times, but I am scared to see what comes after Larry. He had the traditions, and the knowledge, and the time to be reckoned with. I just want to say thank you and thank you Student Association for letting him love you the way he does as an advisor," she said.
At the end of the meeting, President Sita Agterberg swore in President Wiza and President Wiza swore in Vice President Olivia Ahnen. SA will resume this fall on Wednesdays from 6 p.m. to 9 p.m. It is unknown if these meetings will resume in-person, or if they will continue virtually.
About the Writer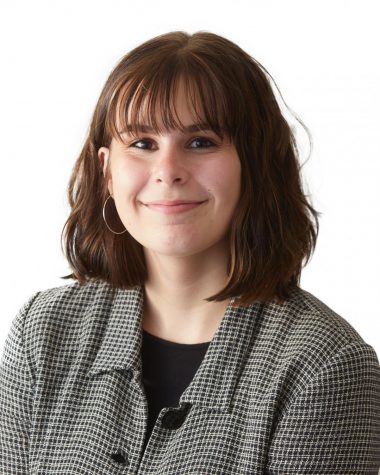 Sam Stroozas, Executive Editor

Year at UWL: Senior
PGPs: She/Her/Hers
Hometown: Hudson, WI
Major: English with an emphasis in Writing and Rhetoric, Communication Studies...