News Release: UWL reinstates mask mandate on campus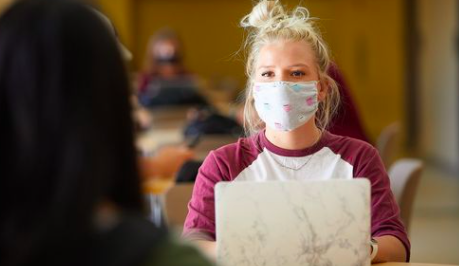 The following email was sent to the University of Wisconsin-La Crosse student body on Thursday, Aug. 26, to inform students about the upcoming changes to campus COVID-19 protocols.
"COVID cases are on the rise in the La Crosse area. We have learned from the La Crosse County Health Department that 229 new cases emerged in La Crosse County over the last 7 days; 154 of them just from Monday and Tuesday this week. At this time, area ICU beds are 90% full of almost entirely unvaccinated individuals.
Masks will now be required indoors:
In response to these disturbing trends, UWL's Executive Policy Group is strengthening our campus masking policy – masks will be required indoors, effective Friday, 8/27.
The enforcement of this new indoor mask mandate will be similar to how it was handled last year. If you have any questions on the mask mandate or how it will affect the operations within your spaces and classrooms, please contact your chair, supervisor or division head for guidance.
Vaccination and reporting:
We can't stress this enough: Please, get vaccinated! The delta variant has changed the game – because of it, COVID poses a greater risk for younger people, and many in our campus community are especially concerned for those who can't yet be vaccinated.
Vaccination is working. It's working to help prevent transmission and infection. And, while these things can still occur in vaccinated individuals, the vaccines are working to prevent severe illness or hospitalization. Please protect yourself and protect those in our community who are most vulnerable. Get vaccinated, Eagles.
Students – if you're vaccinated, please let us know. We are making great progress toward our goals. Thank you and keep it up!"