UWL Theater Presents Classic, A Christmas Carol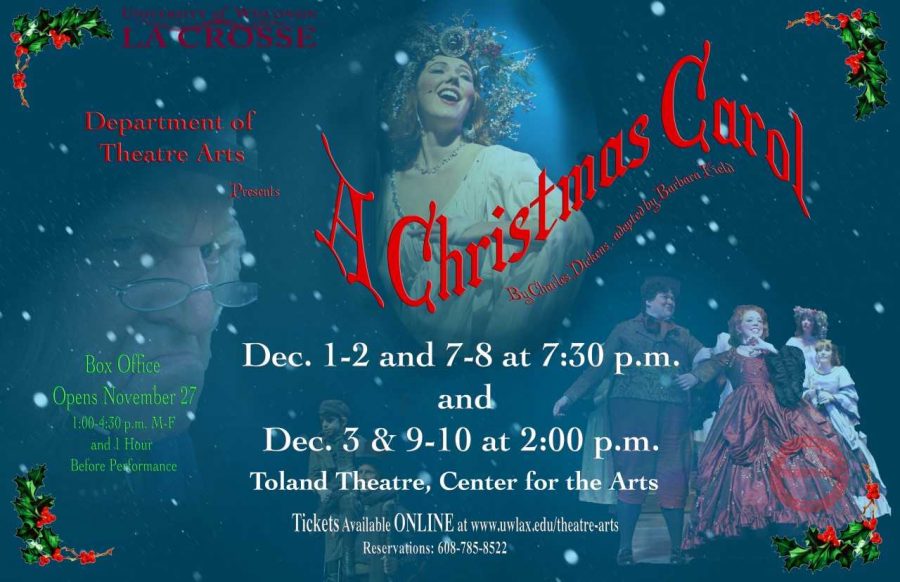 Megan Roddy, Staff Reporter
November 28, 2017
The University of Wisconsin La Crosse Department of Theatre Arts proudly presents the holiday family classic, A Christmas Carol by Charles Dickens and adapted for the stage by Barbra Field. A Christmas Carol is a beloved and timeless Christmas story that teaches the importance of giving, family, and the true spirit of Christmas.
Directed by Professor Mary Leonard, the cast of 54 talented young performers vary in age from 5 to 22 years old. Leonard shared that working with such young actors has been a wonderful experience. "Working with the children of the cast has been my favorite part of the process. They bring joy to all of us as they remind us the true meaning of the Christmas spirit. I also love how our department comes together to take on this monumental production!" Leonard said. This is Mary's fifth time directing A Christmas Carol, as it is performed at UWL every four years.
A Christmas Carol tells the story of a disgruntled, old, cranky money lender, Ebenezer Scrooge. On Christmas Eve, Ebenezer Scrooge learns his stinginess and uncaring attitude towards others could doom him to walk the earth after death wearing a heavy chain of his own creation. But after a restless night of visits from Ghosts of Christmas Past, Present, and Future, they show Scrooge the forgotten memories of his past and his likely future should he continue in the error of his ways.
Colton Janz, a senior Arts Administration major and frequent performer on the UWL stage, stars as the story's author and narrator Charles Dickens. Colton has been in numerous productions at UWL such as The Importance of Being Earnest and One Man, Two Guvnors. He is delighted to be a part of this Christmas classic. "There are so many messages that A Christmas Carol successfully conveys, including but not limited to: love, charity and greed. However, I think most importantly this is a story about redemption. I think, at the core of the story, what Charles Dickens is trying to say is that even complete evil is prone to change with some self-reflection. The messages in the show are truly profound, all-encompassing and have certainly stood the test of time. I think that everyone watching this show can benefit from what it has to say and being a part of that message is very special to me," Janz shared.
Devin Vogel, a junior Theatre Performance major, plays the beloved and iconic Bob Cratchit. Vogel shared many similar admirations of A Christmas Carol with Janz. "I think Charles Dickens wants the audience to understand that happiness is not defined by material possessions or money. Rather, he wants us to see that the experiences we have with our loved ones along with practicing gratitude for what we do have will allow us to feel fulfilled in life. A Christmas Carol was one of my very first theatrical experiences so it is very near and dear to my heart. It was
the first time I ever experienced some sort of "theater magic" and I hope that our presentation of the show can bring that same feeling to our audiences," Vogel said.
A Christmas Carol will fill the hearts of their audience with the spirit of Christmas on December 1-2 & 7-8 at 7:30 p.m. and matinee performances on December 3 & 9-10 at 2:00 p.m. in the Toland Theatre, Center for the Arts on the UW-L campus on the corner of 16th and Vine Streets.
IF YOU GO:
WHO: UW-La Crosse Department of Theatre Arts
WHAT: A Christmas Carol by Charles Dickens adapted by Barbara Field
WHEN: December 1-2 & 7-8 at 7:30 pm and December 3, 9 & 10 at 2:00 pm.
WHERE: Toland Theater, Center for the Arts, 333 N. 16th Street, La Crosse, WI 54601
COST: $20 adults; $18 seniors citizens/non UW-L students; $6 UW-L students. Tickets may be purchased online beginning October 4 at www.uwlax.edu/theatre-arts. In person/phone reservations begin November 27 by calling 608-785-8522. Box office hours are Monday through Friday 1:00-4:30 p.m. and one hour prior to each performance.
CAST: Isabella Andersen, Alec Bercham, Michael Boerboon, Molly Carstensen, Alexis Cimoch, Sarah Coppenbarger, Jill Danklefsen, Maya Dougherty-Harris, Tess Douty, Allison Emmel, Violet Englebert, Emily Farebrother, Shane Flaningam, Stephen Gage, Georgia Galvan, Morgan Gates, Sarah Herkert, Aaron Hinz, Colton Janz, Corrine Kessler, Cooper Koepke, Richard Klinge, Amanda Krueger, Grant Latus, Natalie Leek, Lauren Long, Emily Ludewig, Avital Maltinkski, Maddie McKelly, Evan Medd, Michael Meyers, Beth Miller, Jenna Moilanen, Maeve Moran, Caitlyn Nettesheim, Michael O'Brien, Ben Parmeter, Willie Pearson, Katie Piper, Emily Riebe, Payton Rodeberg, Megan Roddy, Gabe Ross, Emily Rux, Stephen Schams, Delaney Scudella, Christian Sontag, Maddie Stoffel, Kyle Tanis, Alexis Violette, Devin Vogel, Leah Williams
CREW: Mary Leonard (Director), Laurie Kincman (Stage Manager), Megan Morey (Technical Director), Mandy Kolbe (Scenic & Lighting Designer), Joseph Anderson (Costume and Makeup Designer) Benjamin Golden (Sound Designer)