Explained: Applying for the CARES Act as a UWL student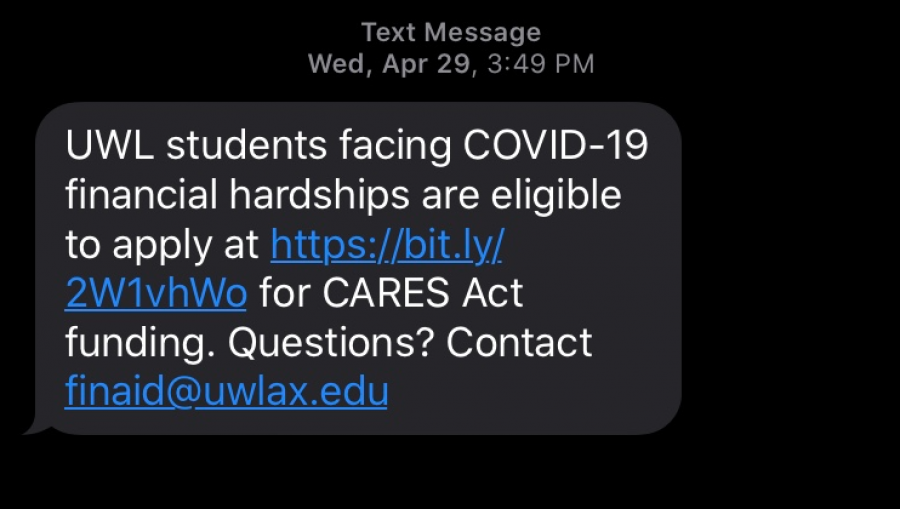 The CARES (Coronavirus Aid, Relief, and Economic Security) act was passed by U.S. Congress on March 27, 2020. The University of Wisconsin-La Crosse was awarded $6,789,642 from the federal CARES act, with a minimum of $3,394,821 to be awarded for emergency financial aid grants to students. These funds are to assist students with expenses related to the disruption of campus operations due to the current COVID-19 pandemic and can include housing, food, course materials, technology, and childcare.
Provost Betsy Morgan said that the other 3 plus million dollars awarded is for the institution and will address COVID challenges such as the cost of bringing international education students back and financial losses in residence life. Although, these decisions are still in the planning process currently and will not be finalized immediately.
UWL students have received text messages and emails, providing information on applying for the Federal CARES Act funding, but many students still have not.  After submitting an application, the UWL financial aid office should be in contact with students within a week.  The federal CARES act grants are different from the UWL emergency fund, which is funded through donations from alumni, UWL employees, or the La Crosse community. The CARES act is government-funded money, and this changes how students apply.
All UWL students who have been affected by the disruption of campus operations due to the COVID-19 pandemic should first apply for the CARES act funding. After receiving a response to that application, students who are still experiencing challenges with their needs being met, or if they need something more financially niche, then applying for the UWL emergency fund would follow. UWL students can only receive up to $400 from the UWL emergency fund, and these awards are to assist students with unexpected expenses related to the switch to virtual learning, food insecurity, housing, etc. As stated, this money is raised through donations, not government funded.
Recently, the UWL biology department pledged $6,235 to the UWL emergency fund. If students want to apply for the UWL emergency fund they should email [email protected] When the financial aid office is working with the CARES act applications they will send referrals to the student life office if they think the applicant would be a good match for the UWL emergency fund as well.
UW-Milwaukee created a helpful guide for UW system students to look at prior to applying for money from the CARES act:
To qualify for a CARES grant, students must:
Have been financially impacted by the disruption of campus operations due to the coronavirus. Eligible expenses include food, housing, course materials, laptops and other technology, health care and child care.
Questions to ask yourself:

Did you have to buy food when campus dining closed?
Did you have to pay a fee to end your lease early or are you paying for an apartment you aren't living in?
Have you had to buy additional course materials or a laptop to do your online classes?
Did you have to subscribe to an internet service to get access at home to do your online coursework?
Have you incurred health care or child care costs as a result of COVID-19?

Be enrolled in a degree or certificate program eligible for federal (Title IV) financial aid.

Most programs are eligible.
Nondegree students are not eligible.

Have filed a 2019-20 or 2020-21 Free Application for Federal Student Aid (FAFSA) in order to document eligibility to participate in federal (Title IV) programs. If you have not already completed a FAFSA, you should do so at fafsa.gov. Primary eligibility requirements include having a valid Social Security number, being a U.S. citizen or eligible noncitizen and, if required, being registered with the Selective Service.
Have been enrolled in at least one in-person or hybrid class on March 13, 2020, when President Trump issued his "Declaring a National Emergency Concerning the Novel Coronavirus Disease (COVID-19) Outbreak" proclamation.

Students who were enrolled exclusively in online courses on March 13, 2020, are not eligible.
To apply for the CARES act through UWL, follow this application link: https://uwlax.ca1.qualtrics.com/jfe/form/SV_2mhNCzOtz9AOHid
Students will need their Eagle ID number to apply. A gallery below is provided to show what information students must provide.

About the Contributor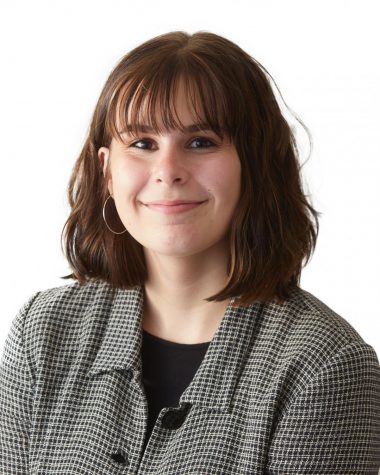 Sam Stroozas, Executive Editor

Year at UWL: Senior
PGPs: She/Her/Hers
Hometown: Hudson, WI
Major: English with an emphasis in Writing and Rhetoric, Communication Studies...